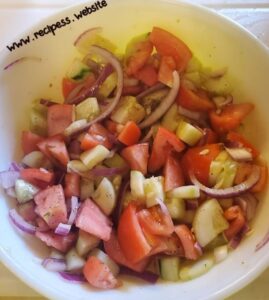 HOW TO MAKE TOMATO CUCUMBER SALAD: 
This is what i used:
Cucumber, thinly sliced
1/2 small onion, thinly sliced
1/ 2 teaspoon pepper
1/2 tablespoons red wine vinegar
1/2 teaspoons salt
1 1/2 teaspoons sugar
Cherry tomatoes cut in half
Cut and mix vegetables
In a separate bowl, mix salt pepper red wine vinegar and sugar.
Mix dressing over vegetables and stir to mix.
That's it, enjoy.