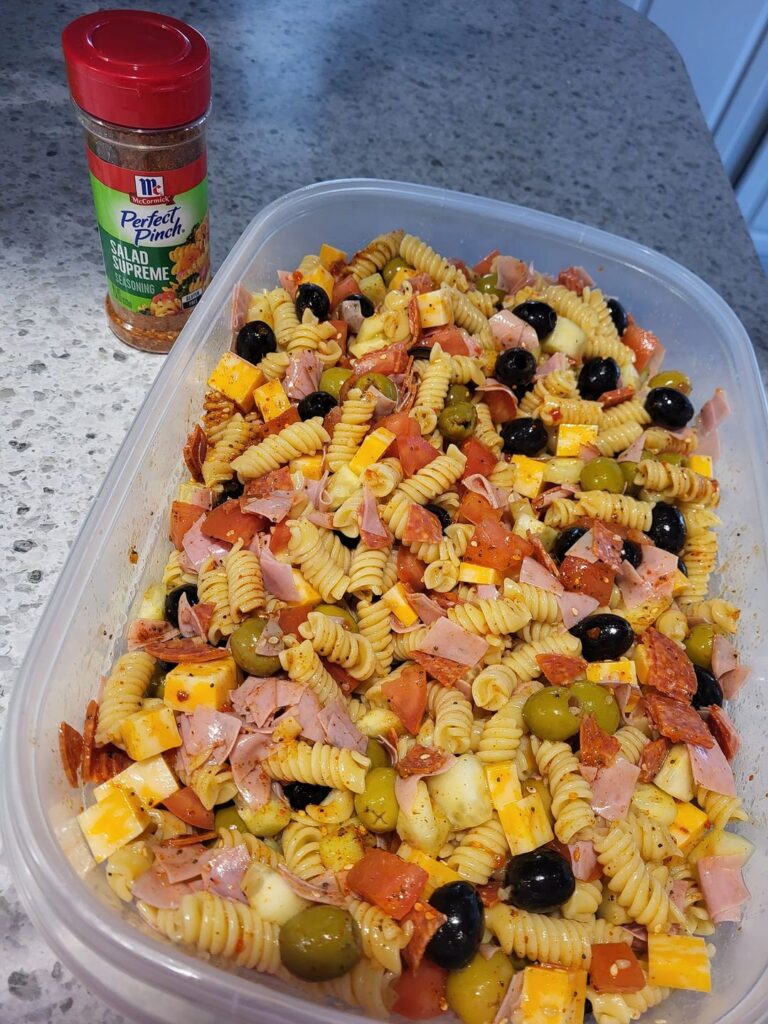 HOW TO MAKE TREE COLORS PASTA SALAD
This pasta salad with three different hues is a treat for the eyes as well as the taste senses. The use of multicolored rotini pasta, in addition to a wide variety of fresh veggies, results in the creation of a meal that is aesthetically attractive. Each morsel has a delectable assortment of tastes and textures, ranging from the crunchiness of the veggies to the smoothness of the pasta.
The dressing is made up of olive oil, red wine vinegar, garlic, and other herbs, and it imparts a zesty and acidic quality to the salad that works well with the various components of the dish. If you decide to include the Parmesan cheese, it will provide a hint of decadence and a savory undertone to the dish.
You are free to adjust the pasta salad to your liking by using other veggies such as broccoli florets, carrots, or corn kernels in the mix. To make it a more substantial lunch, you may also add protein, such as chicken, shrimp, or chickpeas that have been grilled.
Not only is this three-color pasta salad tasty, but it also has a lot of potential applications and is simple to prepare. It is best to prepare it ahead of time and then place it in the refrigerator to cool for a few hours so that the flavors may meld. The finished product is a tasty, vibrant, and refreshing salad that is guaranteed to leave a lasting impression on every guest at your table. Appreciate the lively flavors that this pasta salad has to offer and revel in the pleasures of summer eating.
THESE ARE THE INGREDIENTS YOU'LL NEED:
– 8-oz.Of tricolor rotini pasta.
– 1 Cup.Of cherry tomatoes, halved.
– 1 Cup.Of cucumber, diced.
– 1 Cup.Of bell peppers (red, yellow, or green), diced.
– 1/2 Cup.Of black olives, sliced.
– 1/4 Cup.Of red onion, thinly sliced.
– 1/4 Cup.Of fresh basil leaves, chopped.
– 1/4 Cup.Of fresh parsley, chopped.
– 1/4 Cup.Of grated Parmesan cheese (optional).
FOR THE DRESSING, I USED:
– 1/4 Cup.Of extra-virgin olive oil.
– 2 Tbsp.Of red wine vinegar.
– 1 clove garlic, minced.
– 1/2 Tsp.Of dried oregano.
– 1/2 Tsp.Of dried basil.
– 1/2 Tsp.Of salt.
– 1/4 Tsp.Of black pepper.
For Ingredients And Complete Cooking Instructions Please Head On keep on Reading (>)