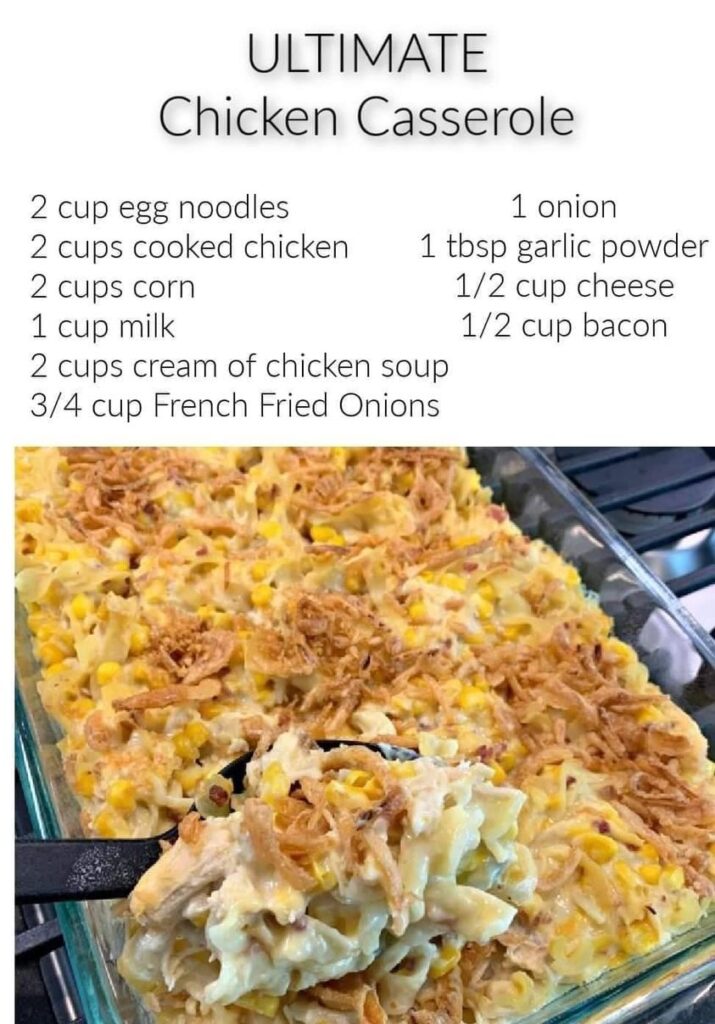 INGREDIENTS YOU'LL NEED:
FOR THE CASSEROLE:
– 4 Cups.Of cooked chicken – shredded.
– 2 Cups.Of cooked pasta (such as penne or rotini).
– 1 Cup.Of frozen peas
– 1 Cup.Of sliced carrots.
– 1 Cup.Of sliced celery.
– 1/2 Cup.Of chopped onions.
– 1/4 Cup.Of chopped red bell pepper.
– 1/4 Cup.Of chopped fresh parsley (for garnish).
– 1 Cup.Of shredded cheddar cheese.
– 1 Cup.Of shredded mozzarella cheese.
FOR THE CREAMY SAUCE:
– 1/4 Cup.Of unsalted butter.
– 1/4 Cup.Of all-purpose flour.
– 2 Cups.Of chicken broth
– 1 Cup.Of milk (whole or 2%).
– 1 Tsp.Of garlic powder.
– 1 Tsp.Of onion powder.
– Salt and freshly ground black pepper, to taste.
PREPARATION:
1 – Pre-heat the oven to 350°F (175°C) and lubricate a 9×13-inch casserole dish or a baking dish of comparable dimensions.
2 – In a large saucepan, bring water to a simmer. Add the sliced carrots and frozen peas and sauté for approximately 3 to 4 minutes, or until tender. Drain and reserve.
3 – Melt the butter in the same saucepan over medium heat. Add the sliced onions, celery, and red bell pepper, if using, and sauté until translucent and tender.
4 – Sprinkle the flour over the sautéed vegetables and butter. Continuously stir for approximately two minutes to brown the flour and form a roux. Incorporate the chicken broth and milk gradually until the mixture is homogeneous. Stirring constantly, continue cooking until the sauce thickens. Add garlic powder, onion powder, freshly ground black pepper, and salt to taste.
5 – Combine the cooked chicken, cooked pasta, cooked vegetables, cooked peas, and half of the shredded cheddar and mozzarella cheese in a large mixing basin. Pour the sauce over the ingredients and combine gradually until everything is evenly coated.
6 – Transfer the mixture to a casserole dish that has been greased. Spread it evenly, then top with the remaining cheese shreds. Bake for approximately 30 to 35 minutes, or until the casserole is simmering and the cheese has dissolved and become golden brown.
7 – Remove the Ultimate Chicken Casserole from the oven and garnish with minced fresh herbs for a flourish of color and flavor.