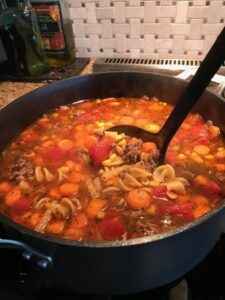 HOW TO MAKE VEGETABLE BEEF NOODLE SOUP
This Beef Noodle Soup Recipe is loaded with delicate meat pieces. All of the white button mushrooms, onion, celery, carrots, and egg noodles were cooked to a flavorful perfection. With salt, freshly ground black pepper, and a few common dried herbs like marjoram, thyme, and rosemary, the broth has the ideal balance of tastes. This delicious soup pairs well with crusty baguettes and soft, creamy butter.
For optimum flavor, I like to prepare this dish using chuck roast. It should be trimmed and chopped into bite-sized pieces. Also, you may get pre-cut beef stew meat. It might be a chuck roast or a mishmash of bits and scraps from various cuts. This article explains why stew beef may not be the greatest option.
Almost everyone has soup leftovers! Ultimately, it is a large pot. Maybe you want to save some of this soup in the refrigerator for a few days in the future. Maybe you anticipate freezing a portion of it. In this situation, just remove the quantity of soup that will be refrigerated or frozen prior to adding the pasta. To reheat the soup, just bring it to a boil and then decrease the heat to a simmer. Cook the pasta until it reaches the desired softness. This will prevent the spaghetti from turning into mush.
Instead, if you forget to remove the soup from the pot before adding the pasta, just reheat it gently on the stovetop or at a lower power level in the microwave.
THE INGREDIENTS LIST:
2 ½ Tbsp.Of vegetable oil.
1 Tbsp.Of butter
8 ounces white button mushrooms sliced
1 medium yellow onion chopped
2 ribs celery chopped
3 large carrots peeled and chopped
3 cloves garlic minced
2–3 lb, beef chuck roast trimmed and cut into bite-size pieces
Kosher salt and fresh ground black pepper
8 cups low-sodium beef broth
1 Tsp.Of dried oregano.
½ Tsp.Of dried thyme.
½ Tsp.Of crushed rosemary.
8 ounces wide egg noodles
Chopped fresh parsley, thyme, or rosemary.
2 bay leaves.
PREPARATION:
1st Step
In a large Dutch oven or soup pot, heat 1 tablespoon of vegetable oil and 1 tablespoon of butter over medium heat. Add the sliced mushrooms and simmer for about 2 to 3 minutes, or until they begin to brown.
2nd Step
Add the onions, celery, and carrots, and sauté until the onions and celery are tender and the carrots are beginning to soften. Lower the heat to low and add the garlic while stirring for one minute.
3rd Step
Place the vegetable combination in a bowl and cover it with a paper towel. Add kosher salt and freshly ground black pepper to the meat. Add the beef pieces to the saucepan after adding a little extra vegetable oil that has been heated to a high temperature.
4th Step
Sauté until both sides are golden. Add beef broth along with oregano, thyme, rosemary, and bay leaves. Bring the mixture to a boil, cover, and simmer for about one hour, or until the meat is fork-tender.
5th Step
Cook the egg noodles for about 5 minutes. Return the vegetables from the bowl to the soup pot and boil for an additional 5 to 7 minutes, or until the egg noodles and carrots are fork-tender.
6th Step
Remove the bay leaves and garnish with parsley, thyme, or rosemary that has been freshly cut. For optimal results, serve quickly.