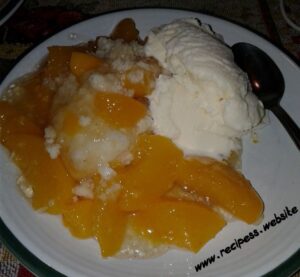 I take peaches, peel cut in good size pieces.
I put them in pan, add about a cup of sugar a dash of cinnamon, I used tapioca to thicken this, but I have used corn starch slurry also.
Then I put in bowl, I used Bisquick and added a couple Tablespoon of suger, mix with milk make a soft dough and spoon it on top.
Sprinkle with sugar and bake at 350 till brown.
Enjoy.