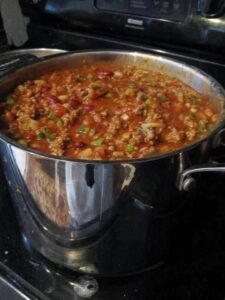 THE INGREDIENTS LIST:
1 Lb.Of ground beef (500 grams)
One chopped onion.
One chopped green bell pepper.
2 garlic cloves – minced
1 large can.Of pinto beans, drained and rinsed.
1 large can.Of kidney beans, drained and rinsed.
1 large can.Of diced tomatoes.
1 medium can.Of tomato sauce.
1 Cup.Of water.
1 Tbsp.Of chili powder.
1 Tsp.Of ground cumin.
1 Tsp.Of paprika
1/2 Tsp.Of cayenne pepper (or to taste).
1/2 Tsp.Of black pepper.
1/2 Tsp.Of salt.
PREPARATION:
1 – Brown the ground beef in a large saucepan or Dutch oven by heating it over medium-high heat until it reaches the desired color. Remove all of the superfluous fat.
2 – Add the minced garlic, diced onion, and chopped green bell pepper to the pan. Keep cooking for a few minutes, or until the veggies reach the desired degree of tenderness.
3 – Add the kidney beans, pinto beans, chopped tomatoes, tomato sauce, and water, and stir to combine. Drain and rinse the cans of beans.
4 – Stir in the chili powder, ground cumin, paprika, cayenne pepper, and black pepper, then season with salt. To blend, give it a good stir.
5 – After the chili has come to a boil, decrease the heat to low and allow it to simmer for around one to two hours, stirring it every so often.
6 – After tasting the dish, make any necessary adjustments to the seasoning by adding additional chili powder or cayenne pepper to get the appropriate level of spiciness.
7 – Serve the Wendy's Chili while it's still hot, topping it with any toppings you like most, such as shredded cheese, chopped onions, or a dollop of sour cream.
Wendy's Chili is a cherished comfort food, offering the warmth and satisfaction of a homemade stew. Whether enjoyed on a chilly evening or served at gatherings with loved ones, this chili is sure to bring comfort and joy to every bowl. Embrace the heartiness of ground beef and beans, and savor the taste of this classic chili recipe inspired by Wendy's.