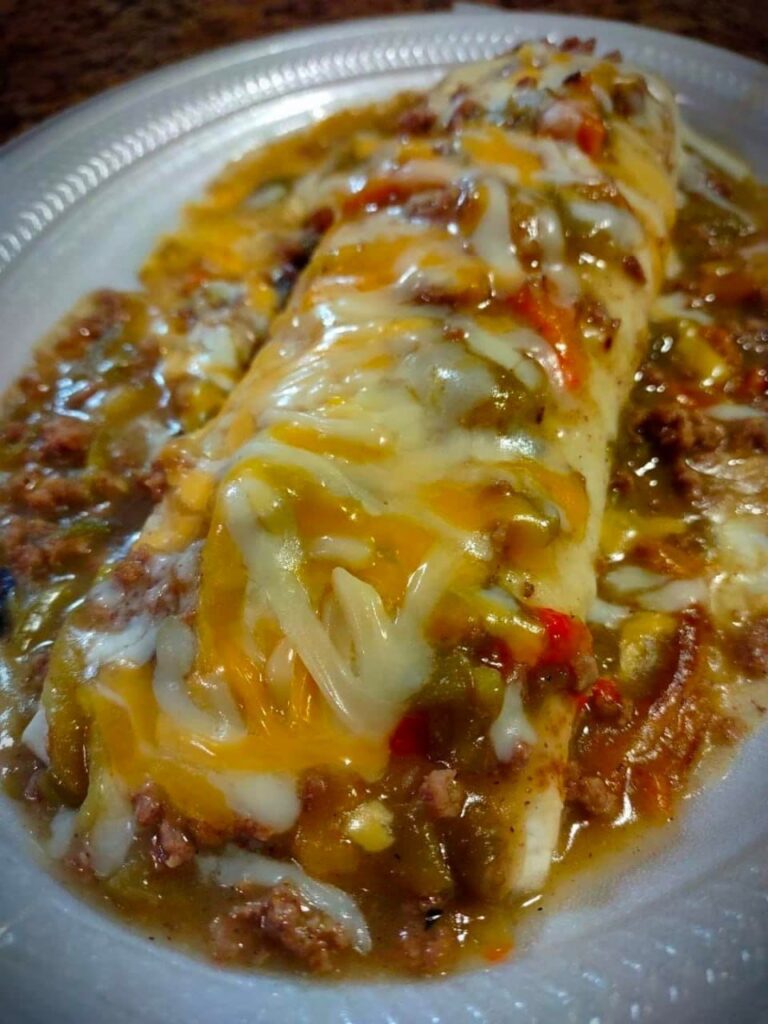 THE INGREDIENTS LIST:
1 lb.Of ground beef or turkey.
1 Pkg.Of taco seasoning mix.
1 (15 oz) can.Of refried beans.
1 (10 oz) can.Of red enchilada sauce.
4 large flour tortillas.
1 1/2 can.Of shredded cheese (cheddar, Monterey Jack, or a blend).
Optional toppings: sour cream, sliced jalapeños, chopped cilantro, diced tomatoes, sliced avocado.
INSTRUCTIONS:
1st Step
In a large skillet over medium heat, cook the ground meat until fully browned. Drain any excess fat. Add the taco seasoning mix and cook according to the packet instructions.
2nd Step
In a separate saucepan, heat the refried beans over medium heat until warmed through.
3rd Step
Lay out the flour tortillas. Spread a portion of the refried beans in the center of each tortilla, followed by a scoop of the cooked meat mixture. Sprinkle with shredded cheese.
4th Step
Fold the sides of the tortilla in, then roll it up to create a burrito. Place the burritos seam-side down in a baking dish.
5th Step
Pour the red enchilada sauce evenly over the burritos, making sure they are generously coated.
6th Step
If you prefer an extra cheesy topping, you can sprinkle a little more shredded cheese on top.
7th Step
Set your oven to 350°F (175°C). Place the baking dish in the oven and bake for about 15-20 minutes, or until the burritos are heated through and the cheese is melted and bubbly.
8th Step
Remove from the oven and let them cool slightly. Optionally, garnish with your choice of toppings – sour cream, sliced jalapeños, chopped cilantro, diced tomatoes, or sliced avocado.