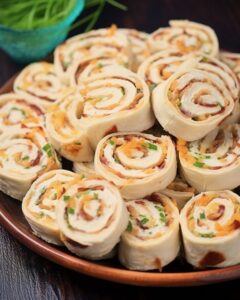 THE INGREDIENTS NEEDED:
FOR THE FILLING:
8-oz.Of cream cheese, softened.
1 Cup.Of cooked chicken, shredded.
1/2 Cup.Of cheddar cheese, shredded.
1/4 Cup.Of green onions, chopped.
1/4 Cup.Of crispy bacon, crumbled.
1/4 Cup.Of ranch dressing.
Salt and pepper to taste.
FOR ASSEMBLY:
Large flour tortillas (8-10 inches).
Lettuce leaves.
Tomato slices (optional)
PREPARATION:
1st Step
Combine cream cheese that has been softened, shredded chicken, cheddar cheese, sliced green onions, crumbled bacon, and ranch dressing in a large mixing bowl. Continue to combine all of the ingredients until they are well combined. Salt and pepper may be added to taste as a seasoning.
2nd Step
Prepare a flat, clean area for the big flour tortillas. Onto each tortilla, spread a liberal amount of the filling mixture and distribute it evenly.
3rd Step
On top of the filling, lay a few lettuce leaves and tomato slices (if you're using them). To ensure that the filling is safely wrapped, roll the tortilla up firmly beginning at one end and working your way to the other. Iterate this process for each tortilla.
4th Step
Place each rolled tortilla in a separate piece of plastic wrap, and place the tortillas in the refrigerator for at least two hours, or until they are firm. This enables the pinwheels to solidify, which makes it much simpler to cut them into pieces afterward.
5th Step
Cut the cold pinwheels into slices that are 1 inch thick using a very sharp knife. Arrange the slices so that they are easily accessible on a serving dish, and then use a toothpick to hold each slice in place.