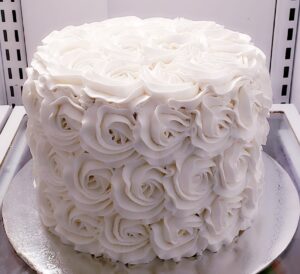 HOW TO MAKE WHITE ALMOND WEDDING CAKE
The Most Amazing White Cake recipe is fluffy and light, and it turns out simply stunning. This is the perfect example of the white cake you've been imagining! This cake recipe yields a cake that is both soft and moist, making it an excellent choice for use in white wedding cakes. It is solid enough to stack, and it may be decorated with fondant.
There have been several variations of this "white almond wedding cake" recipe throughout the years. When I first learned how to make cakes from scratch, I tried this recipe after reading an article. When you mix all of these components, it's almost like you're starting from scratch to make a cake! The one thing you don't have to be concerned about is the process of mixing, which, although it can seem complicated at first, is really rather simple after you've done it a few times. It's a simple technique to make a boxed cake taste more like a cake made from scratch, and it's straightforward to create and quite mistake-proof.
There are a few components that must be at room temperature for the recipe to work. If you follow this procedure exactly, you will end up with a nicer texture, thus the extra patience will be well worth it.
THESE ARE THE INGREDIENTS NEEDED TO MAKE THIS SUPER DELICIOUS WHITE ALMOND WEDDING CAKE:
A white cake mix box.
140 grams.Of cake flour.
200 Grams.Of granulated sugar.
1/4 Tsp.Of salt.
255 Grams.Of sour cream; at room temp.
100 grams.Of melted butter.
230 grams.Of whole milk; at room temp.
4 large egg whites; at room temp.
1 Tsp.Of almond extract.
PREPARATION:
First Step
The directions for making this cake are really straightforward. Simply combine all of the ingredients in a bowl and beat them for two minutes using a mixer set on medium speed.
Second Step
Voila! The cake batter is ready; the next step is to pour the mixture into two pans measuring 8 inches in diameter that have been oiled.
Third Step
Bake at 350 degrees Fahrenheit for thirty to forty minutes, or until a toothpick inserted into the center comes out clean. If you are using bigger pans, it is OK to bake your cakes for a longer period.