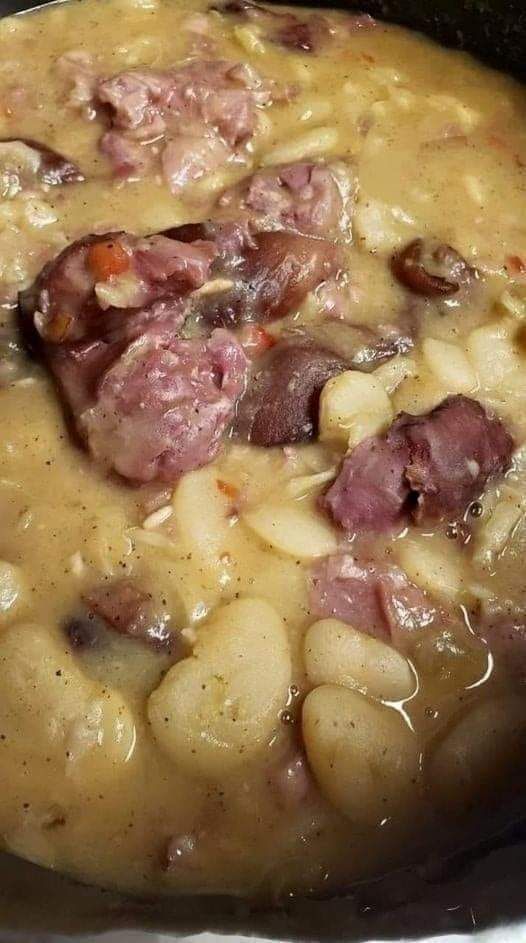 THE INGREDIENTS LIST:
1 Lb.Of dried white beans (Great Northern or Navy beans).
2 ham hocks.
1 large chopped onion.
3 chopped carrots.
3 chopped celery stalks.
4 minced garlic cloves.
8 Cups.Of chicken or vegetable broth.
2 bay leaves.
1 small sp.Of dried thyme.
Salt and pepper to taste.
Olive oil for sautéing.
Optional: chopped fresh parsley for garnish.
INSTRUCTIONS:
1st Step
Remove any debris by giving the dry white beans a good rinse in cold water. To soften them, leave them in a big basin of water overnight.
2nd Step
Put the ham hocks in a big stockpot and add water to cover them. Bring to a boil, then lower the heat and simmer for one to one and a half hours, or until the flesh is fork-tender and readily separates from the bone.
3rd Step
After removing the ham hocks from the saucepan, let them cool a little. Save roughly 6 cups of the cooking liquid for the soup after draining. After it has cooled, remove the flesh from the bones and save it.
4th Step
Heat just a little of olive oil over medium heat in a big soup pot or Dutch oven. Add the minced garlic, carrots, celery, and onion, all chopped. Sauté the veggies for approximately 5 minutes, or until they are tender and aromatic.
5th Step
After soaking, rinse and drain the beans. Together with the shredded ham hock flesh, add them to the saucepan. Make sure the beans are well submerged before adding the chicken or veggie broth.
6th Step
Add salt, pepper, bay leaves, and dried thyme to the saucepan. Mix the seasonings together well. Afterward, gently bring the soup to a boil before lowering the heat. For approximately two hours, or until the beans are cooked, simmer the mixture covered.
7th Step
Check the soup often, and if extra broth is required to maintain the correct consistency, add it. Remove and discard the bay leaves before serving.
8th Step
Pour bowls with the White Bean and Ham Hock Soup. For an optional splash of color and freshness, garnish with chopped fresh parsley. For a hearty, filling supper that will warm you from the inside out, serve this warming soup with crusty bread or a side salad.