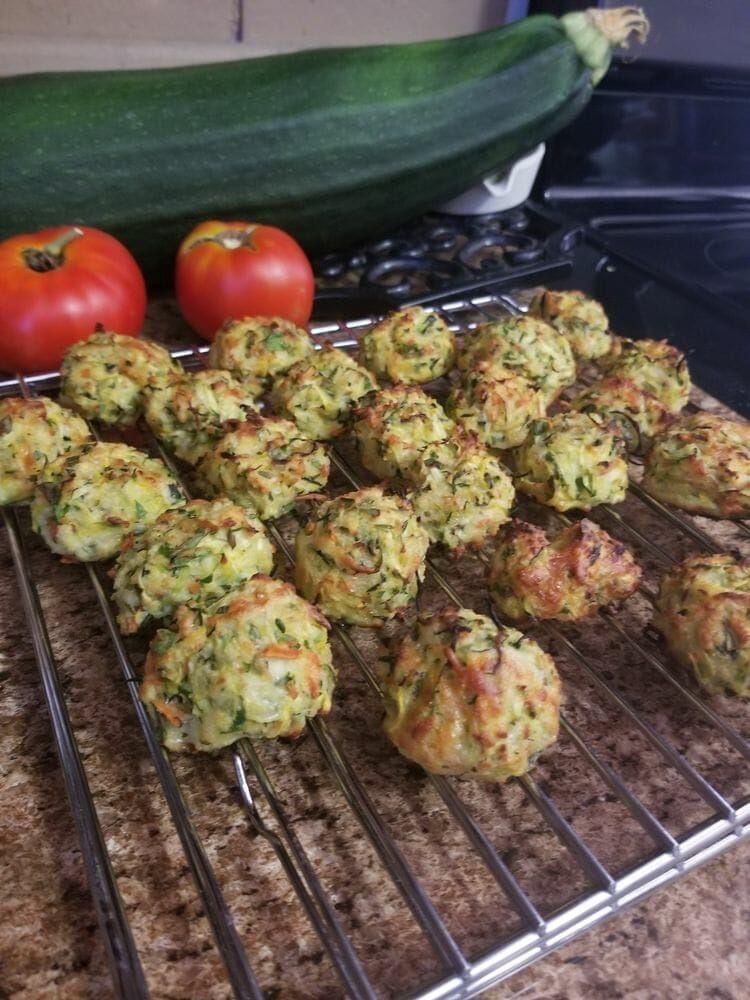 THE INGREDIENTS LIST:
– 2 medium zucchinis.
– 2 garlic cloves – minced.
– 1/2 Cup.Of grated Parmesan cheese.
– 1/2 Cup.Of breadcrumbs.
– 1/4 Cup.Of chopped fresh parsley.
– 1/4 Tsp.Of salt.
– 1/4 Tsp.Of black pepper.
– 2 large eggs, beaten.
– Cooking spray or olive oil for greasing
PREPARATION:
1st Step
Bring the oven up to temperature, preferably 425 degrees Fahrenheit (220 degrees Celsius). Grease a baking sheet with cooking spray or olive oil, or line it with parchment paper.
2nd Step
Wash and cut the ends off the zucchinis. Grate the zucchinis using a grater or the grating attachment of a food processor. Squeeze off as much liquid as possible from the shredded zucchini by placing them on a clean kitchen towel or paper towel. To ensure the zucchini bits bake evenly, this is a necessary step.
3rd Step
Mix the grated zucchini, garlic, Parmesan, breadcrumbs, fresh parsley, salt, and pepper in a large basin. Combine well so that nothing is left out. When the zucchini mixture is starting to come together, add the beaten eggs and stir until everything is covered.
4th Step
Form the zucchini mixture into little bite-sized balls, using approximately a tablespoon's worth. To ensure that the zucchini bits bake evenly, you should repeat this step with the remaining mixture.
5th Step
Prepare the zucchini bits by lightly spraying them with cooking spray or by drizzling them with olive oil. In the oven, this will help them brown and become crisp.
6th Step
To get a golden brown and crispy exterior, bake the zucchini bits in a preheated oven for 15-18 minutes. To achieve even browning, turn them over halfway through baking.
7th Step
Take the zucchini garlic bits out of the oven after they're done baking and let them rest for a couple of minutes before serving.
These delicious bits of zucchini and garlic may be served as either an appetizer or a snack. They're great on their own or with a dipping sauce like ranch dressing, tzatziki, or marinara.