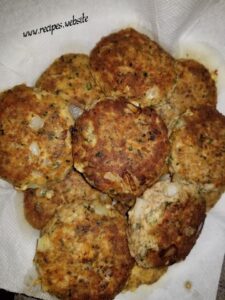 HOW TO MAKE ZUCCHINI PATTIES
These Easy Zucchini Patties are an excellent method for putting all of that summer zucchini to good use. It's such a simple dish, but it provides the ideal addition to grilled meat or quick and easy lunch for the kids that involves finger foods. The combination of provolone and parmesan cheese in these incredible Zucchini Patties makes them very cheesy and brings out the full flavor of the zucchini. They are wonderful both as a side dish and as an appetizer!
I have been preparing these zucchini patties for years since they are among my favorites. It's a pretty old recipe that I acquired from a friend more than 15 years ago, and these zucchini patties are so delicious and indulgent, that they'll become a fixture in your house. I really hope you like them as much as I do! These were so delicious that my companion and I were unable to stop eating them; we dipped them in ranch dressing, and they were irresistible.
These bite-sized morsels are cooked in a hot pan to create a crispy exterior that encases gooey cheese, tender and flavorful zucchini, and other delicious ingredients. Believe me when I say that after reading this, your perspective on zucchini will never be the same.
When stored in an airtight container, these patties may be kept in the refrigerator for three to four days. They are also good for freezing! Simply freeze each one on a baking sheet separately first, then transfer it to a container with a tight-fitting lid or a freezer bag. They may be stored for up to three months and then reheated in the oven to the appropriate temperature when you are ready to enjoy them.
THE INGREDIENTS LIST:
3 medium-sized grated zucchini.
Shredded Provolone cheese.
1/2 Cup.Of grated Parmesan cheese.
1/2 Cup.Of breadcrumbs.
1/4 Cup.Of all-purpose flour.
Finely chopped onion; I used a medium one.
2 Tbsp.Of chopped dill.
2 whole eggs – beaten.
A pinch.Of salt.
1/4 Tsp.Of ground pepper.
2 Tbsp.Of vegetable oil.
DIRECTIONS:
1st Step
Wrap a large bowl with paper towels and set it aside. After grating the zucchini into the bowl that has been prepared, one zucchini at a time, use paper towels to remove all of the water from the grated zucchini.
2nd Step
You also have the option of placing the grated zucchini in a colander that is placed over the sink and then salting the zucchini after it has been grated. Toss the zucchini with care, and then pat it dry with some paper towels.
3rd Step
Put the shredded zucchini, provolone cheese, Parmesan cheese, breadcrumbs, flour, onion, dill, eggs, and little salt and pepper in a big bowl. Mix well. In most cases, I omit the salt since I believe that the cheese already has enough amount of sodium. Combine quite nicely.
4th Step
Warm up roughly a tablespoon of the vegetable oil in the pan you're using. You have the option of forming the zucchini mixture into patties or using a spoon to drop tiny portions of the mixture onto the pan. Take care not to pack too much into the pan.
5th Step
Fry the patties on both sides until they have a golden brown color, then repeat the process with the leftover zucchini mixture.
6th Step
Warm them up and serve them on their own or with ranch dressing.
ENJOY IT!