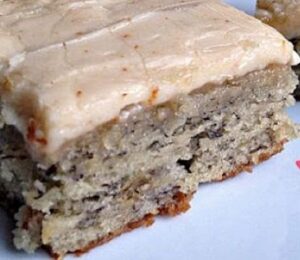 HOW TO MAKE BANANA BREAD BROWNIES
Banana bread brownies are a delicious dessert that combines the basic elements of brownies with traditional banana bread. The warm, reassuring flavor of ripe bananas is combined with the decadent, chocolaty richness of brownies in these delectable sweets, which are moist, fudgy, and wonderfully flavorful.
The ideal combination of two all-time favorites, banana bread and brownies is a lovely departure from the norm in the world of conventional baking. These sweets are likely to become a favorite in anyone's home because of the moist banana taste and the deep chocolaty sweetness that they possess. It doesn't matter what the occasion is; these Banana Bread Brownies are sure to be a hit with your loved ones, whether you want to enjoy them in the company of others or in the solitude of a quiet time with a cup of coffee.
THE INGREDIENTS LIST:
1 and 1/2 Cups.Of mashed ripe bananas (about 4-5 medium-sized bananas).
2 Tsp.Of lemon juice.
1/2 Cup.Of unsalted butter, melted.
1 Cup.Of granulated sugar.
1 large egg.
1 Tsp.Of pure vanilla extract.
1 1/2 Cups.Of all-purpose flour.
1 Tsp.Of baking powder.
1/2 Tsp.Of baking soda.
1/4 Tsp.Of salt.
1/2 Cup.Of semi-sweet chocolate chips.
For Ingredients And Complete Cooking Instructions Please Head On keep on Reading (>)