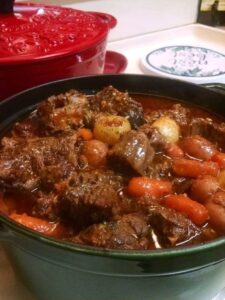 HOW TO MAKE BEEF STEW
Preparation Time: For approximately 15 to 20 minutes.
Low Setting Cooking Time: 8 to 12 hours.
High Setting Cooking Time: 4 to 6 hours.
Total Time: Varies based on the cooking setting.
Servings: Approximately 4 to 6 servings.
Welcome foodies!! Embark on a culinary voyage into the realm of warmth and nourishment with our classic Beef Stew recipe! This exquisite creation unites tender morsels of beef with an array of vibrant vegetables and a deeply flavored, aromatic broth, delivering not just a meal but a heartwarming experience. So! Whether you're envisioning a soul-soothing family dinner, an impressive feast for guests, or simply seeking solace in a bowl on a chilly night, this beef stew transcends ordinary fare. What elevates this recipe to a higher echelon is its adaptability, allowing you to choose between the effortless convenience of a slow cooker or the hands-on engagement of stovetop cooking.
As we embark on this culinary odyssey, you'll find yourself immersed in a sensory symphony: the sizzle of searing beef, the comforting scent of simmering vegetables, and the anticipation of a dish that promises to fill your home with delightful aromas. The outcome is not just a delightful meal but a testament to the art of slow-cooked perfection. So, come with us as we explore the intricacies of crafting this exceptional beef stew, a dish that embodies both tradition and innovation, and promises to become a cherished addition to your culinary repertoire.
Ingredients:
Two pounds of beef stew meat diced into 1-inch chunks.
1/4 cup of all-purpose flour.
Half a cup of salt.
Half a tsp of ground black pepper.
1 1/2 cups of beef broth.
4 medium-sized carrots, thinly sliced.
3 medium-sized potatoes, cubed.
One medium-sized onion (chopped).
One stalk of celery.
One tsp of Worcestershire sauce.
One tsp of ground paprika.
One clove of garlic, minced.
One large bay leaf.
For Ingredients And Complete Cooking Instructions Please Head On keep  on Reading  (>)