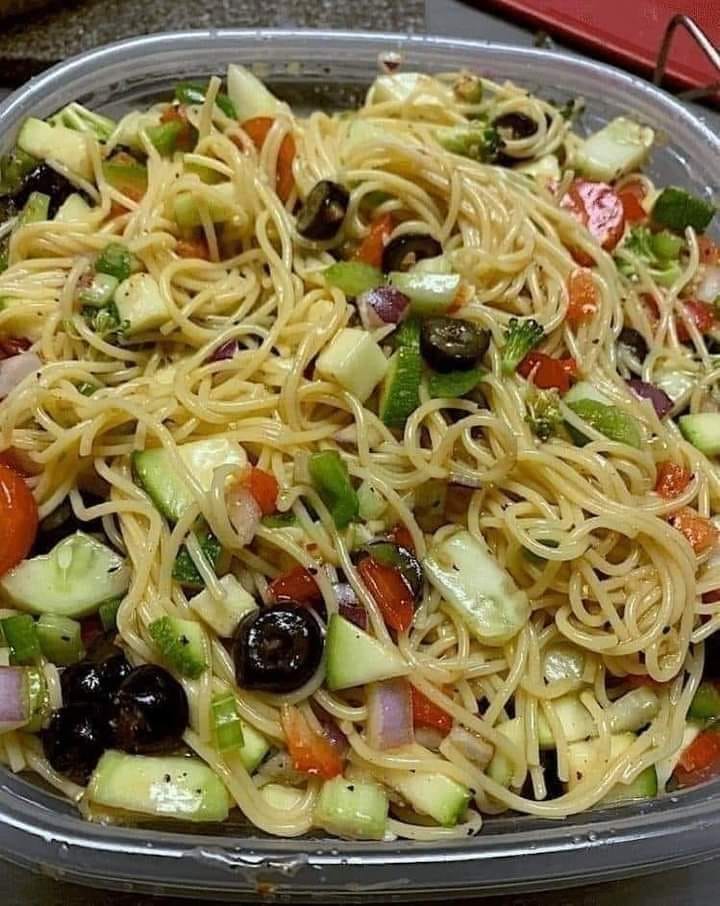 HOW TO MAKE CALIFORNIA SPAGHETTI SALAD
The classic pasta salad is given a revitalizing update in the form of California Spaghetti Salad, which is a light and zesty pasta salad. This dish reflects the spirit of California's fresh and nutritious food thanks to its abundance of vibrant veggies, tastes with a kick, and a dressing with a sour finish. It doesn't matter whether you're throwing a summer BBQ, going to a potluck, or just searching for a tasty and filling meal—the California Spaghetti Salad is guaranteed to wow with its exquisite blend of different textures and tastes.
The California Spaghetti Salad is a delectable and vivacious meal that exemplifies the spirit of the fresh and nutritious food that is native to the state of California. This salad is the ideal dish to bring to any get-together since it has a vibrant assortment of veggies, a flavorful dressing, and spaghetti that is cooked to the right al dente texture. This delectable take on a traditional spaghetti salad, which was inspired by the cuisine of California, has a variety of tastes and textures that are quite refreshing.
THE INGREDIENTS LIST:
250 grams.Of spaghetti noodles, broken in half.
1 Cup.Of cherry tomatoes, halved.
1 Cup.Of cucumber, diced.
1 Cup.Of bell peppers (assorted colors), diced.
1/2 Cup.Of red onion, finely chopped.
1/2 Cup.Of black olives, sliced.
1/4 Cup.Of fresh parsley, chopped.
1/4 Cup.Of grated Parmesan cheese.
FOR THE DRESSING:
1/4 Cup.Of extra-virgin olive oil.
3 Tbsp.Of red wine vinegar.
2 Tbsp.Of lemon juice.
2 cloves garlic, minced.
1 Tsp.Of Dijon mustard.
1 Tsp.Of dried oregano.
1/2 Tsp.Of salt.
1/4 Tsp.Of black pepper.
For Ingredients And Complete Cooking Instructions Please Head On keep on Reading (>)