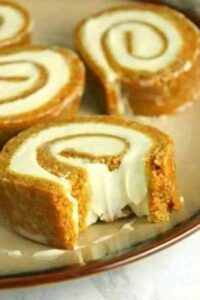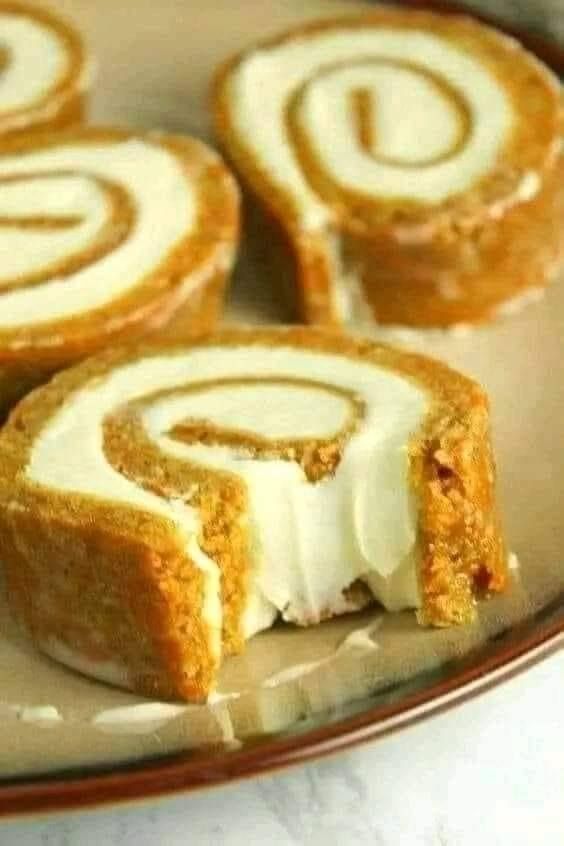 HOW TO MAKE CARROT CAKE ROLL WITH CREAM CHEESE FILLING: A Sweet Spiral Delight
Satisfy your sweet tooth with a twist on the classic carrot cake – the Carrot Cake Roll with Cream Cheese Filling. This delightful dessert combines the warmth of cinnamon-spiced carrot cake with the creamy richness of a luscious cream cheese filling, all rolled into a beautiful spiral. Perfect for any occasion, this dessert is a true crowd-pleaser.
This Carrot Cake Roll with Cream Cheese Filling is a delightful twist on a classic dessert. The combination of moist carrot cake and creamy filling is a match made in dessert heaven. Whether for special occasions or a sweet treat any day, this recipe is sure to bring smiles to those who taste it.
THE INGREDIENTS LIST:
FOR THE CARROT CAKE:
3 large eggs.
2/3 Cup.Of granulated sugar.
2 Tbsp.Of vegetable oil.
1 Tsp.Of vanilla extract.
1/4 Tsp.Of salt.
1 Tsp.Of baking powder.
1 Tsp.Of ground cinnamon.
3/4 Cup.Of all-purpose flour.
2 Cups.Of grated carrots (about 3 medium carrots).
FOR THE CREAM CHEESE FILLING:
8-oz.Of cream cheese, softened (226g).
1/4 Cup.Of unsalted butter, softened.
1 Cup.Of powdered sugar.
1 Tsp.Of vanilla extract.
FOR DUSTING:
Powdered sugar, for dusting
For Ingredients And Complete Cooking Instructions Please Head On keep  on Reading  (>)