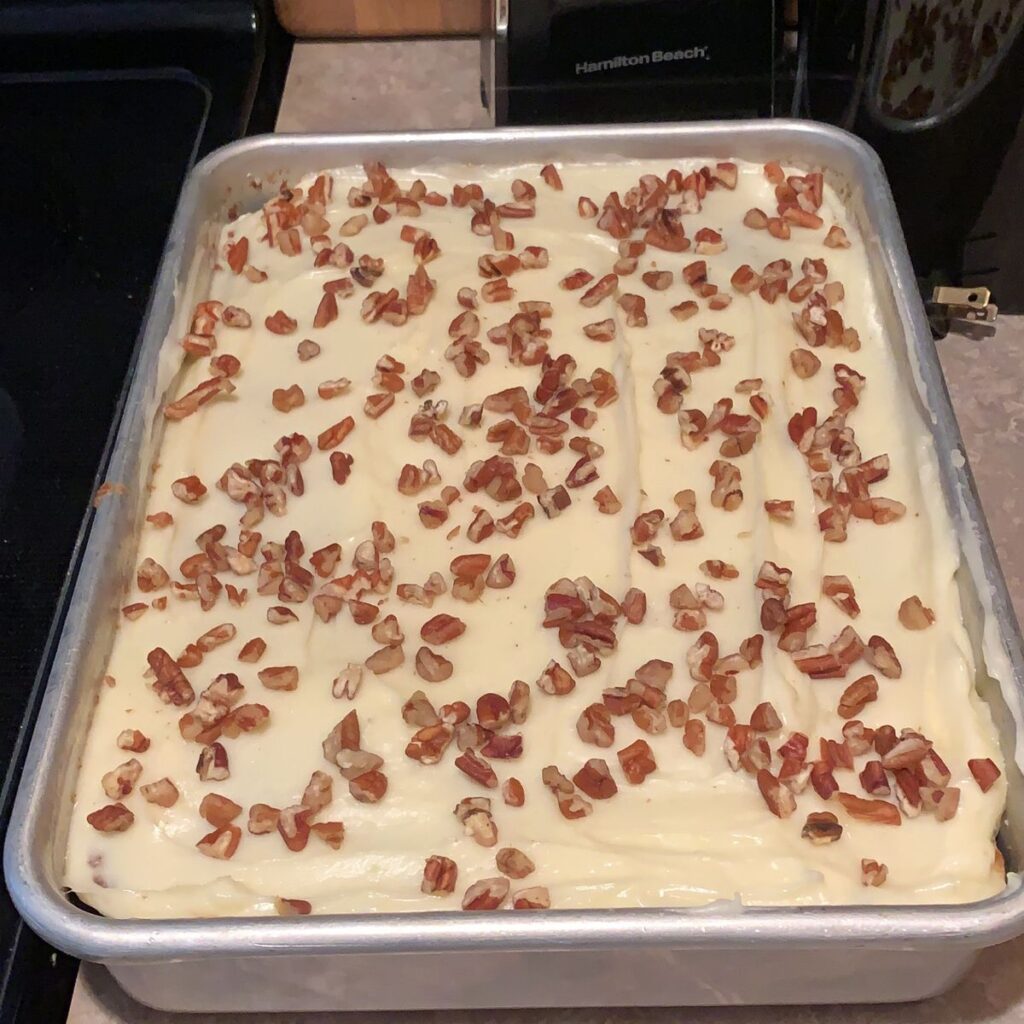 HOW TO MAKE CARROT CAKE SHEET CAKE: A Slice of Sweet Perfection
When it comes to sweets, there aren't many inventions that are as well-liked and as reassuring as the carrot cake sheet cake. This culinary masterpiece mixes the natural sweetness of carrots with a subtle mixture of spices, resulting in a cake that is both moist and indulgent. Dessert lovers all over the world have fallen in love with this cake, and it is easy to see why. Because of its endearing simplicity and tastes that warm the heart, it has become a standard dish at get-togethers, and festivities, and even just as a wonderful treat to brighten any day.
This Carrot Cake Sheet Cake is a tribute to the eternal attraction of simple tastes that are nostalgic for home. The combination of its rich, spicy cake with its creamy, tangy frosting produces a symphony of flavor and texture that lingers in the mind long after the last mouthful has been consumed. This cake exemplifies the happiness that can be brought about by a dish that has been carefully prepared, and it is the perfect choice for any celebration or even simply to perk up an average day.
THE INGREDIENTS LIST:
2 Cups.Of all-purpose flour.
2 Cups.Of granulated sugar.
1 Tsp.Of baking powder.
1 Tsp.Of baking soda.
1 Tsp.Of salt.
2 Tsp.Of ground cinnamon.
1/2 Tsp.Of ground nutmeg.
1/2 Tsp.Of ground cloves.
4 large eggs.
1 Cup.Of vegetable oil.
2 Tsp.Of pure vanilla extract.
3 Cups.Of grated carrots (about 4-5 medium carrots).
1 Cup.Of chopped pecans or walnuts (optional).
1 Cup.Of crushed pineapple, drained (optional).
FOR THE CREAM CHEESE FROSTING:
8-oz.Of softened cream cheese.
1/2 Cup.Of unsalted softened butter.
4 Cups.Of powdered sugar.
1 teaspoon pure vanilla extract,
For Ingredients And Complete Cooking Instructions Please Head On keep on Reading (>)