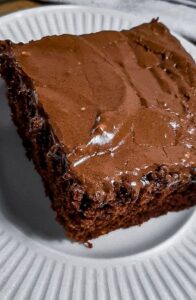 How To Make Chocolate Depression Cake
Preparation Time: For about 10 to 15 minutes.
Baking Time: For about 30 to 35 minutes.
Total Time: For approximately 40 to 50 minutes (excluding cooling time).
Servings: 9 to 16 slices (depending on portion size).
Welcome, introducing the Chocolate Depression Cake: A timeless testament to resourcefulness and delicious simplicity!!
Born out of necessity during the trying years of the Great Depression, this cake has managed to transcend its origins as a humble, yet delightful, dessert. Yes!! It's a creation that emerged when essential ingredients like butter, eggs, and milk were often in short supply. Despite the challenging circumstances, this cake has become a beloved classic.
In this recipe, we'll walk you through the steps to create a moist and indulgent Chocolate Depression Cake, adorned with a silky cocoa frosting. This budget-friendly confection allows you to relish the rich flavors of chocolate without the need for extravagant or hard-to-find ingredients. As you'll discover, it's a perfect example of how even during difficult times, simple pleasures can bring immense joy to the table.
So! Whether you're a seasoned baker or just starting, this recipe offers a straightforward and gratifying way to create a chocolatey masterpiece. So, let's dive into the world of Chocolate Depression Cake and relish its enduring charm.
Ingredients:
For the cake:
1.5 cups of all-purpose flour.
One cup of granulated sugar.
1/4 cup of unsweetened cocoa powder.
1/2 tsp of salt.
One tsp of baking soda.
One tsp of pure vanilla extract.
One tsp of white vinegar.
1/3 cup of vegetable oil.
One cup of water.
For frosting:
Two tbsp of butter.
1/4 cup of unsweetened cocoa powder.
One cup of powdered sugar.
One tbsp of milk (or cream).
1/4 tsp of vanilla extract.
Continued on next page…