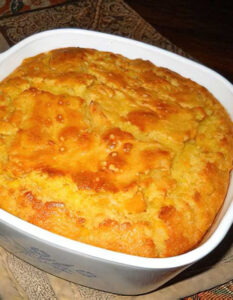 HOW TO MAKE CORN CASSEROLE
Corn casserole is a well-loved dish that can be seen on many people's dinner tables, particularly during get-togethers for the holidays and meals that include potlucks. This warm and reassuring side dish takes the sweet and golden kernels of corn and blends them with a batter that is creamy and has a hint of salty, resulting in a beautiful harmony of tastes and textures. Because of its ease of preparation, adaptability, and capacity to win over a wide variety of diners, it has become an essential component of American cuisine.
Corn casserole is a time-honored side dish that is known for its ability to pleasantly and reassuringly combine the tastes of corn, cream, and cheese in a single dish. Because of its adaptability, it may be used for a wide range of situations, ranging from celebratory meals to midweek suppers. Because of how simple it is to make and how well it goes over with a large group of people, this dish has a cherished position in the culinary history of the United States. Savor the classic tastes that Corn Casserole brings to the table with your loved ones while you take pleasure in the dish's deliciously sweet and velvety texture.
THE INGREDIENTS LIST:
1 (15-oz) Can.Of whole kernel corn, drained.
1 (15-oz) Can.Of cream-style corn.
1 Cup.Of sour cream.
1/2 Cup.Of (1 stick) unsalted butter, melted.
1 Cup.Of cornbread mix (such as Jiffy).
2 large eggs.
1 Cup.Of shredded cheddar cheese.
Salt and freshly ground black pepper, to taste.
Chopped fresh chives or parsley (optional, for garnish).
For Ingredients And Complete Cooking Instructions Please Head On keep on Reading (>)