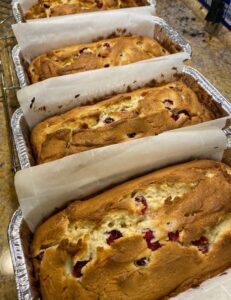 HOW TO MAKE CREAM CHEESE CRANBERRY LOAF – A Luscious Holiday Treat
The Cream Cheese Cranberry Loaf is a beautiful creation that combines the tangy vitality of cranberries with the rich, creamy richness of cream cheese. The result is a delightful concoction that is sure to please. This dish is a crowd-pleaser, making it ideal for the holiday season as well as any other event that calls for a hint of sweetness and an explosion of flavor from the fruits. The combination of cream cheese and cranberries yields a luscious and soft loaf that is a living monument to the alchemy that takes place when the two ingredients are brought together.
The process of making this mouthwatering delight is an adventure into the realm of combining different tastes and textures. Not only does the cream cheese, with its velvety richness, add to the loaf's enticing moistness, but it also gives the loaf a faint tang that complements its overall flavor. The tangy, vibrant flavors of the cranberries explode in your mouth with each mouthful, providing a delicious contrast to the smooth texture of the cheesecake. Each slice is the perfect combination of creamy, fruity, and decadent thanks to the loaf's understated sweetness, which links everything together into a cohesive whole.
THE INGREDIENTS LIST:
FOR THE LOAF:
1/2 Cup.Of unsalted butter, softened.
4 ounces cream cheese, softened.
1 1/4 Cups.Of granulated sugar.
2 large eggs.
2 Tsp.Of vanilla extract.
2 Cups.Of all-purpose flour.
1 1/2 Tsp.Of baking powder.
1/2 Tsp.Of baking soda.
1/2 Tsp.Of salt.
1/2 Cup.Of whole milk.
1 1/2 Cups.Of fresh or frozen cranberries, coarsely chopped.
FOR THE GLAZE:
1/2 Cup.Of powdered sugar.
1 Tbsp.of milk.
For Ingredients And Complete Cooking Instructions Please Head On keep  on Reading  (>)