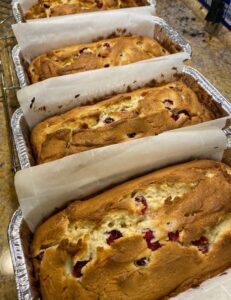 THE INGREDIENTS LIST:
FOR THE LOAF:
1/2 Cup.Of unsalted butter, softened.
4 ounces cream cheese, softened.
1 1/4 Cups.Of granulated sugar.
2 large eggs.
2 Tsp.Of vanilla extract.
2 Cups.Of all-purpose flour.
1 1/2 Tsp.Of baking powder.
1/2 Tsp.Of baking soda.
1/2 Tsp.Of salt.
1/2 Cup.Of whole milk.
1 1/2 Cups.Of fresh or frozen cranberries, coarsely chopped.
FOR THE GLAZE:
1/2 Cup.Of powdered sugar.
1 Tbsp.of milk.
PREPARATION:
1st Step
Prepare a temperature in your oven of 350 degrees Fahrenheit (175 degrees Celsius). Prepare a loaf pan that is 9×5 inches by greasing and flouring it.
2nd Step
To make the filling, put the butter, cream cheese, and granulated sugar into a large mixing basin and beat them together until they are frothy and light.
3rd Step
Add the eggs one at a time, being sure to give the mixture a thorough mix after each addition. Stir in the essence of vanilla bean.
4th Step
Mix the flour, baking powder, baking soda, and salt in a separate dish until well combined.
5th Step
Begin and finish with the flour mixture as you gradually add the milk to the butter mixture while alternating between each addition of the flour combination and the milk. Mix until everything is evenly distributed.
6th Step
Add the chopped cranberries and mix gently. Then pour the batter into the loaf pan that has been prepped and level the top.
7th Step
Bake for about 60–70 minutes, or until a toothpick inserted into the middle of the cake emerges clean.
8th Step
After ten minutes, remove the loaf from the pan and place it on a wire rack to cool entirely.
9th Step
Combine the powdered sugar and milk in a small bowl and whisk until smooth. After the loaf has cooled down to room temperature, the glaze should be drizzled on top.
The Cream Cheese Cranberry Loaf is a symphony of flavors and textures, perfect for sharing with loved ones during the holiday season or any time you want to indulge in a delightful treat. Each slice is a testament to the beauty of combining cream cheese and cranberries in a luscious, moist loaf. Enjoy the magic of this recipe and savor the joy it brings to your taste buds.