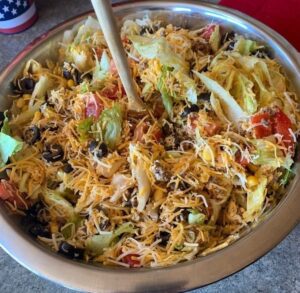 HOW TO MAKE DORITO TACO SALAD: A Crunchy Fiesta for Every Occasion
The Dorito Taco Salad is a delicious combination of Tex-Mex tastes that combines the spicy goodness of tacos with the satisfying crunch of Doritos. This dish is a beautiful fusion of Tex-Mex flavors. Because of how simple it is to make and how much enthusiasm there is for its flavor, this meal has become a standard at gatherings of all kinds, including potlucks, parties, and family get-togethers. The Dorito Taco Salad should be your go-to meal for any occasion, whether you're throwing a game night, celebrating a birthday, or just searching for a dish that will delight a large group of people.
The Dorito Taco Salad is a culinary masterpiece that combines the powerful tastes of tacos with the enticing crunch of Doritos. The result is a dish that you won't be able to resist. Because of its malleability and ability to appeal to people of many backgrounds, it is a meal that is often requested for a diverse variety of events. Consequently, the next time you want to wow your visitors or spoil your family, you should think about preparing this delectable salad that is sure to please a large group of people. Your collection of tried-and-true recipes will almost certainly benefit from its addition.
FOR THE SALAD:
1 Pound.Of ground beef or turkey.
1 packet.Of taco seasoning mix.
A chopped head of iceberg lettuce.
1 Cup.Of cherry tomatoes, halved.
1 Cup.Of shredded cheddar cheese.
1 Cup.Of black beans, drained and rinsed.
1 Cup.Of corn kernels (canned or frozen).
1/2 red onion, thinly sliced.
1/2 Cup.Of sliced black olives.
1/2 Cup.Of chopped fresh cilantro.
2 Cup.Of Doritos, crushed.
FOR THE DRESSING:
1/2 Cup.Of sour cream.
1/4 Cup.Of mayonnaise.
1/4 Cup.Of salsa.
1 Tbsp.Of lime juice.
1 Tsp.Of cumin.
Salt and pepper to taste.
For Ingredients And Complete Cooking Instructions Please Head On keep  on Reading  (>)