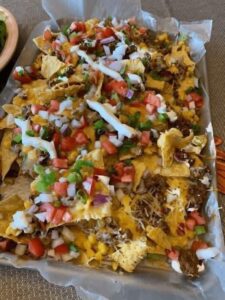 HOW TO MAKE EASY TACO PIZZA RECIPE
The amazing combination of two of everyone's favorite foods, tacos and pizza, is known as taco pizza. It's an exciting and tasty way to experience the finest of both worlds at the same time. This recipe for Easy Taco Pizza is great for a fast weekday supper, a game day snack, or a dinner party with a more relaxed atmosphere. Its crunchy pizza dough, flavorful ground beef, and an assortment of toppings ensure that it will quickly become a favorite among the whole family.
You can put an end to your desires for pizza and tacos at the same time with this incredible recipe for Easy Taco Pizza. Because it is customized, you may add any toppings you like—for example, avocados, cilantro, or sliced red onions—at your leisure. This taco pizza is guaranteed to be a favorite at the next event you attend, no matter whether you share it with your loved ones or your closest friends.
THE INGREDIENTS LIST:
FOR THE PIZZA DOUGH:
1 pre-made pizza dough (store-bought or homemade).
2 Tbsp.Of olive oil
1 Tsp.Of garlic powder.
1 Tsp.Of dried oregano.
FOR THE TACO MEAT:
1 Lb.Of ground beef or ground turkey.
1 small onion, finely chopped.
A (1.25-oz) packet.Of taco seasoning mix.
1/2 Cup.Of water.
FOR THE PIZZA TOPPINGS:
1 and 1/2 Cups.Of shredded cheddar cheese.
1 Cup.Of diced tomatoes.
1/2 Cup.Of sliced black olives.
1/2 Cup.Of sliced green onions.
1/4 Cup.Of sliced jalapeños (optional, for a spicy kick).
1/2 Cup.Of sour cream.
1/2 Cup.Of shredded lettuce
Salsa for drizzling (optional).
For Ingredients And Complete Cooking Instructions Please Head On keep on Reading (>)