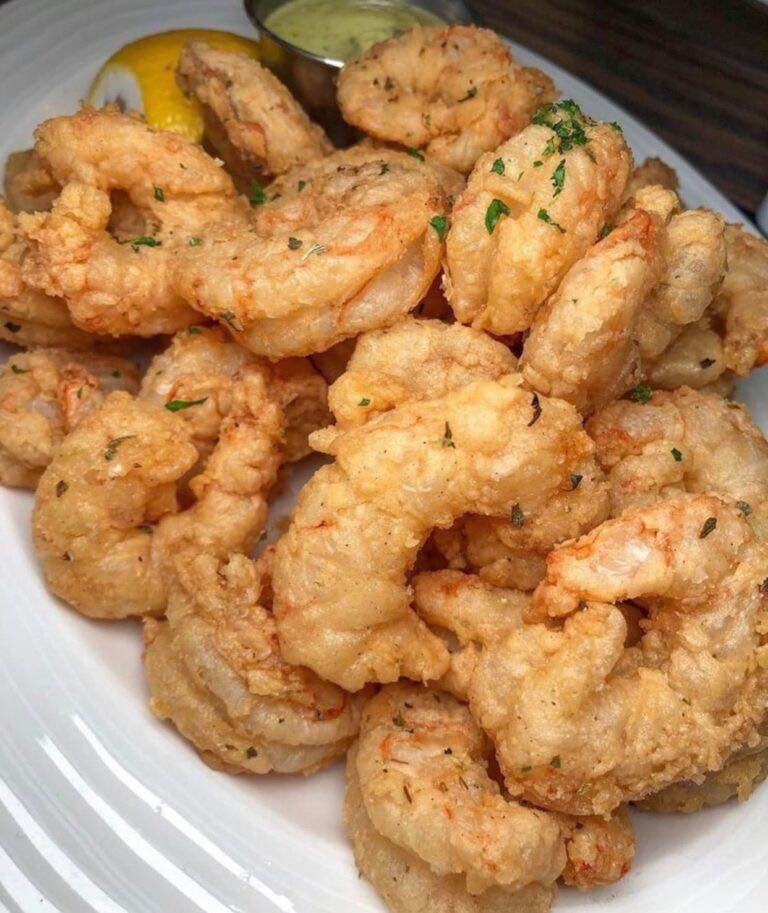 THE INGREDIENTS LIST:
500 grams.Of large shrimp, peeled, deveined and tails intact
120 grams.Of all-purpose flour.
1 Tsp.Of garlic powder.
1 Tsp.Of paprika.
1/2 Tsp.Of cayenne pepper (adjust to taste).
Salt and black pepper to taste.
2 large beaten eggs.
1/4 Cup.Of milk.
Vegetable oil, for frying.
Lemon wedges for serving.
Optional: cocktail sauce or tartar sauce for dipping
PREPARATION:
1st Step
Combine the flour, garlic powder, paprika, cayenne, salt, and black pepper in a large mixing basin. The shrimp will be coated with this spiced flour mixture.
2nd Step
To make an egg wash, mix together milk and the beaten eggs in a separate basin. In a large skillet or frying pan, heat copious amounts of vegetable oil over medium-high heat. You need enough oil to completely cover the shrimp.
3rd Step
Coat each shrimp in the seasoned flour mixture, making sure they are all equally coated, while the oil is heating. Dip the shrimp that have been dusted with flour into the egg wash, letting any excess fall off.
4th Step
Place the shrimp back in the flour mixture with the seasonings for a second coating. A crispy, delicious crust is ensured by the double-coating procedure.
5th Step
Carefully add a few of the coated shrimp at a time to the heated oil, being careful not to crowd the pan. Fry the shrimp for two to three minutes on each side, or until they are crisp and golden brown.
6th Step
Transfer the fried shrimp to a dish covered with paper towels using a slotted spoon. This aids in absorbing any extra oil.
7th Step
Continue frying the remaining shrimp, if necessary using extra oil. You should serve your fried shrimp hot and with lemon wedges as a garnish. If preferred, provide a cocktail or tartar sauce on the side for dipping.
Each mouthful of these Best Fried Shrimp is a monument to the art of frying, as it delivers a symphony of tastes and textures that complement each other perfectly. The luscious shrimp, which are coated in a golden coating that is both crunchy and chewy, is a monument to the skill of frying. It's the kind of meal that makes you feel like you've been whisked away to the coast, complete with recollections of coastal restaurants and the sea wind. Savor the flavor of the ocean's abundance without ever having to leave the convenience of your own home as you indulge in these mouthwatering morsels with friends and family.