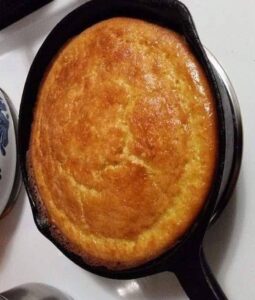 How to Make Grandmother's Buttermilk Cornbread
Cooking Time: The cooking time is specified as 25 to 30 minutes.
Total Time: Approximately 35 to 45 minutes in total.
Hello foodies!! Picture this: the scent of buttery goodness wafting through the kitchen, the anticipation of a golden, crumbly masterpiece just out of the oven!!
Cornbread, a quintessential comfort food, has a special place in the heart of American cuisine, and Grandmother's Buttermilk Cornbread recipe is no exception. Yeah! This cherished family heirloom has been passed down through the generations, carrying with it the flavors of tradition and the warmth of family gatherings.
In this culinary adventure, we invite you to step into the world of Southern cooking, where simple ingredients come together to create something truly magical. This recipe not only yields a delectable cornbread with a delightful contrast of sweet and savory but also stirs memories of kitchens filled with laughter, shared stories, and the love of a grandmother's touch.
So, whether you're a seasoned home chef or a kitchen novice, Grandmother's Buttermilk Cornbread beckons you to embark on a journey back to the heart of Southern hospitality. So, don your apron, gather your ingredients, and let's create a culinary masterpiece that not only satisfies your taste buds but also warms your soul.
Ingredients:
8 tbsp of unsalted butter.
Half a cup of granulated sugar.
One cup of yellow cornmeal.
Two large eggs.
One cup of buttermilk.
One teaspoon of baking soda.
One cup of all-purpose flour.
Salt, to taste.
For Ingredients And Complete Cooking Instructions Please Head On keep on Reading (>)