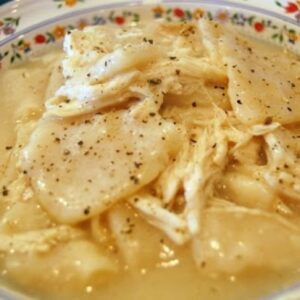 HOW TO MAKE HOMEMADE CHICKEN AND DUMPLINGS
Chicken and dumplings cooked from scratch are the quintessential examples of traditional comfort food; they are evocative of the treasured recipes that have been served on family tables for centuries. This delicious dish includes succulent slices of chicken that are snuggled in a rich and aromatic broth and are complemented by dumplings that are soft and pillowy in texture. This time-honored recipe will satisfy your want for comfort and a flavor of home in every mouthful, whether you are seeking warmth on a cold evening or just wishing for a taste of what you had growing up.
This meal is a fan favorite because of the comforting scent of the chicken as it cooks, the tender dumplings that soak up the tasty broth, and the fond memories associated with eating it. It represents the very definition of handmade comfort food, and its appeal to the heart is something that cannot be denied.
THE INGREDIENTS LIST:
For the Chicken:
1 whole chicken cut into parts (approx. 4 to 5 pounds).
Salt and freshly ground black pepper, to taste
2 Tbsp.Of vegetable oil.
1 large onion, finely chopped.
3 cloves garlic, minced.
4 carrots, peeled and sliced.
4 celery stalks, chopped.
2 bay leaves.
8 Cups.Of chicken broth (homemade or store-bought).
For the Dumplings:
2 Cups.Of all-purpose flour
1 Tbsp.Of baking powder
1 Tsp.Of salt
1/2 Tsp.Of black pepper
2 large eggs.
3/4 Cup.Of whole milk.
For Garnish:
• Fresh parsley, chopped (optional)
For Ingredients And Complete Cooking Instructions Please Head On keep on Reading (>)