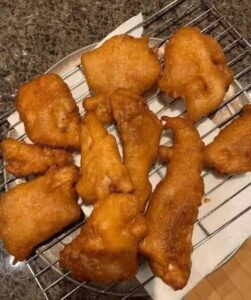 HOW TO MAKE LONG JOHN SILVER'S BATTER
The batter used at Long John Silver's is what gives their famous fish and chips its signature crispy texture, which has helped make this seafood business a fan favorite among those who like eating seafood. Fish and other types of shellfish get a crispy and golden coating thanks to this one-of-a-kind batter, which creates a flavorful and textural combination that is just delectable. You'll be able to recreate the flavor of Long John Silver's batter at home, giving you the opportunity to do it in the convenience of your own cooking space.
With the help of this recipe, you'll be able to re-create the classic flavor of the batter at Long John Silver's in the comfort of your own home, treating your taste buds to the restaurant's distinctive crispiness. Have fun with the seafood dinner that you created at home!
THE INGREDIENTS LIST:
1 Cup.Of all-purpose flour.
1 Tbsp.Of cornstarch.
1 Tsp.Of baking powder.
1/2 Tsp.Of salt.
1/2 Tsp.Of paprika.
1/2 Tsp.Of garlic powder.
1/4 Tsp.Of onion powder.
1/4 Tsp.Of white pepper.
1/4 Tsp.Of baking soda.
1 Cup.Of water.
For Ingredients And Complete Cooking Instructions Please Head On keep on Reading (>)