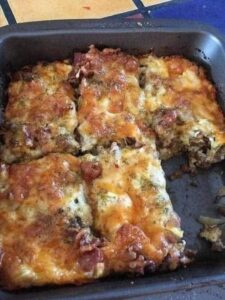 THE INGREDIENTS NEEDED:
FOR THE CASSEROLE:
– 1 and ½ Lbs.Of ground beef (preferably lean).
– Bacon slices; I used 8 cooked and crumbled.
– 1 Cup.Of diced onions.
– 2 cloves garlic, minced.
– 1 Cup.Of diced tomatoes (I used canned).
– 1 Cup.Of dill pickles, chopped.
– 2 Cups.Of shredded cheddar cheese.
– 1 Cup.Of shredded mozzarella cheese.
FOR THE SAUCE:
– 1/2 Cup.Of mayonnaise.
– 1/4 Cup.Of sugar-free ketchup.
– 2 Tbsp.Of yellow mustard.
– 2 Tsp.Of Worcestershire sauce.
INSTRUCTIONS:
1st Step
First thing, heat your oven to 350 degrees Fahrenheit (175 degrees Celsius). Grease a 9×13-inch baking dish or a casserole dish of comparable dimensions.
2nd Step
Cook the minced beef in a large skillet over medium-high heat until it is browned and thoroughly cooked. As it roasts, pulverize it into small pieces to ensure an even texture. Drain any excess fat from the beef and set it aside.
3rd Step
Add the diced onions and minced garlic to the same pan. About 2 to 3 minutes, or until the onions are translucent and aromatic.
4th Step
Whisk the mayonnaise, sugar-free ketchup, yellow mustard, and Worcestershire sauce in a small basin until thoroughly combined. This sauce will impart tartness and flavor to the casserole.
5th Step
Combine the cooked minced beef, pulverized bacon, diced tomatoes, sliced pickled pickles, and half of the shredded cheddar and mozzarella cheese in a large mixing basin. Salt and freshly ground black pepper may be added to flavor after pouring the sauce over the ingredients. Combine all ingredients until thoroughly combined.
6th Step
Spread the mixture evenly in the casserole dish that has been lubricated. Add the remaining cheddar and mozzarella cheese shreds on top. This layer of cheese will soften and form a golden, bubbling exterior.
7th Step
Bake the casserole dish in a preheated oven for 20 to 25 minutes, or until the cheese is melted and steaming and the casserole is thoroughly heated.
8th Step
Before serving, remove the Low-Carb Bacon Cheeseburger Casserole from the oven and allow it to chill. If desirable, garnish with freshly minced parsley or green scallions.