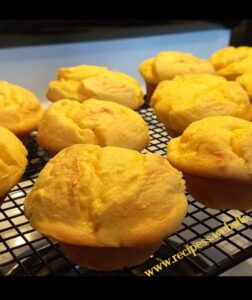 Orange Muffins
"Sugar Free"
1 sugar free yellow cake mix
1 box 1.5oz instant vanilla pudding mix sugar free
1/2 cup orange juice squeezed from orange & zest orange
1/2 cup canola oil or veg.oil
4 large eggs
1 cup diet Mt.Dew
Use large bowl and combine all ingredients. Beat on medium speed for 4 minutes.
Preheat oven 325°
Spray muffin tin with cooking spray. Scoop into muffin tin. Makes 12 large muffins.
Bake 18 to 20 minutes
"Options":use orange juice if don't have oranges. Use orange cake mix, I had yellow cake mix. Orange extract 1 tsp can be used. Cream cheese icing would be tasty.
These muffins are very tender and moist.
Enjoy.