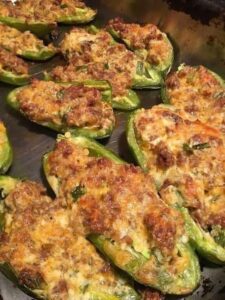 HOW TO MAKE PARMESAN CHICKEN STUFFED PEPPERS: A FAMILY FAVORITE
Our family's recipe for Parmesan Chicken Stuffed Peppers is one of the crown jewels in our collection of delicious dishes. It combines the vivid tastes of bell peppers with the tenderness of chicken that has been seasoned, and then it bakes all of that goodness under a bed of creamy Parmesan cheese. Not only is this recipe a treat for our taste senses, but it also serves to bring our family closer together at the dinner table.
The recipe for Parmesan Chicken Stuffed Peppers has become a staple at our family gatherings. Because of the dish's complex combination of tastes and textures, which appeal to a wide variety of taste preferences, almost everyone adores it. As we take our time to appreciate each mouthful, we not only take pleasure in the delectable food that has been prepared for us, but we also take part in the affection and warmth that result from our time spent together at the dinner table. This dish has solidified its place in the annals of our most beloved customs as a member of our family, and it is one that we eagerly anticipate passing on to future generations.
INGREDIENTS YOU'LL NEED:
4 large bell peppers (any color you like).
1 Lb.Of boneless, skinless chicken breasts, diced.
1 Cup.Of cooked quinoa.
1 Cup.Of cherry tomatoes, halved.
1 Cup.Of shredded mozzarella cheese.
1/2 Cup.Of grated Parmesan cheese.
1/4 Cup.Of fresh basil, chopped.
2 cloves garlic, minced.
1 Tbsp.Of olive oil.
Salt and pepper to taste
Continued on next page…