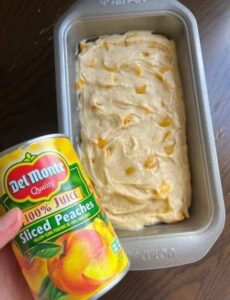 HOW TO MAKE PEACHES & CREAM CHEESE LOAF: A Slice Of Summer Bliss
The Peaches and Cream Cheese Loaf is a lovely confection that captures the spirit of summer in all of its glorious glory. Every morsel of the soft crumb, which is laced with juicy peaches and has a delectable cream cheese swirl running through it, is a symphony of tastes.
This loaf is a celebration of the season, where the sweetness of peaches harmonizes with the creamy richness of cream cheese to create a harmonious and delicious loaf. Your taste buds are in for a real treat with every single piece of this cake since it has a delectable combination of tastes and textures.
THE INGREDIENTS LIST:
2 Cups.Of all-purpose flour.
1 Tsp.Of baking powder
1/2 Tsp.Of baking soda
1/2 Tsp.Of salt
1/2 Cup.Of unsalted butter, softened
1 Cup.Of granulated sugar
2 large eggs
1 Tsp.Of vanilla extract.
1/2 Cup.Of sour cream.
1 and 1/2 Cups.Of fresh peaches, peeled and chopped.
4 oz cream cheese, softened.
1/4 Cup.Of powdered sugar.
1 Tbsp.Of milk.
For Ingredients And Complete Cooking Instructions Please Head On keep  on Reading  (>)