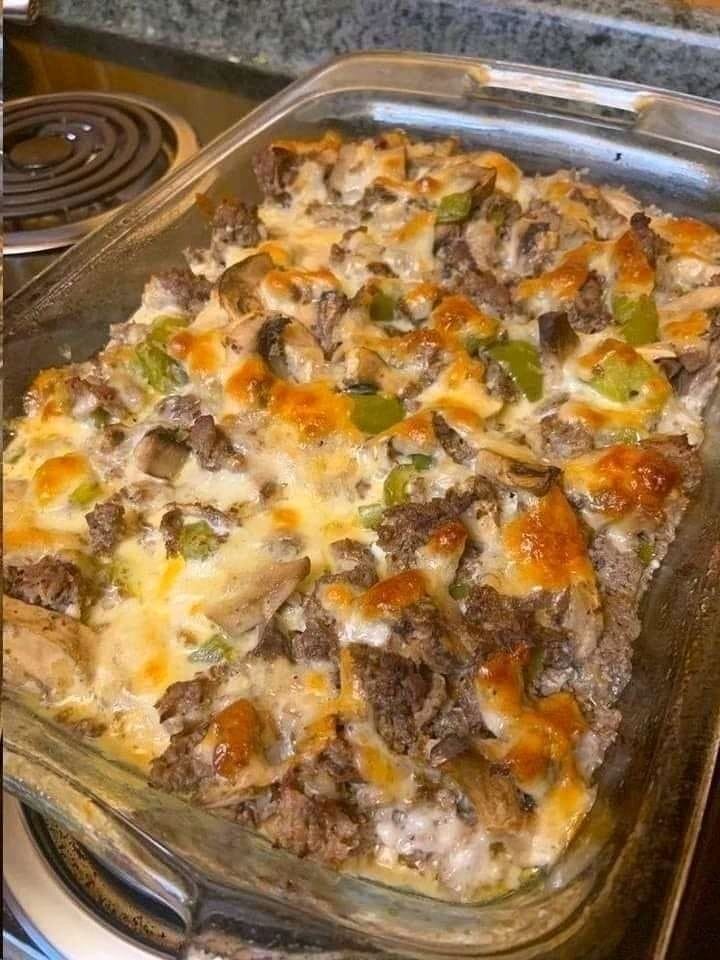 HOW TO MAKE PHILLY CHEESESTEAK CASSEROLE
This delicious take on the traditional Philly cheese steak sandwich, known as Philly Cheese Steak Casserole, is sure to please. This delectable casserole is made with soft pieces of beef, onions, and bell peppers sautéed in butter, and ooey-gooey melted cheese, all of which are baked until they reach the ideal consistency.
It is a meal that is both rich and satisfying, and it manages to capture the tastes of a famous sandwich in a manner that is both convenient and tasty. The following is a step-by-step instruction that will walk you through the process of preparing this mouthwatering Philly Cheese Steak Casserole:
The Philly Cheese Steak Casserole is a mouthwatering and satiating meal that captures the flavor and spirit of the well-known sandwich in its own unique way. This dish has the potential to become a household favorite due to its tender meat, veggies that have been sautéed, and melted cheese. It doesn't matter whether it's consumed during the midweek supper or if it's offered at a party; this dish is savory and reassuring, and everyone will want more of it.
THE INGREDIENTS LIST:
800 grams.Of beef sirloin, thinly sliced.
2 Tbsp.Of olive oil, divided
2 large onions, thinly sliced.
2 bell peppers, thinly sliced.
3 cloves of garlic, minced.
300 grams.Of mushrooms, sliced.
1 Tsp.Of dried oregano.
1 Tsp.Of dried basil.
Salt and pepper to taste
250 grams.Of provolone cheese, shredded.
1 Cup.Of mozzarella cheese, shredded
1 Cup.Of beef broth.
2 Tbsp.Of Worcestershire sauce.
2 Tbsp.Of soy sauce.
Fresh parsley, chopped (for garnish).
For Ingredients And Complete Cooking Instructions Please Head On keep on Reading (>)