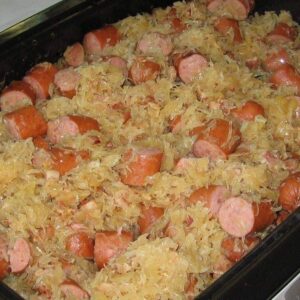 HOW TO MAKE POLISH SAUSAGE, SAUERKRAUT, AND POTATOES
The smokey richness of Polish sausage, the acidic bite of sauerkraut, and the comforting earthiness of potatoes come together in this substantial and tasty meal known as Polish Sausage, Sauerkraut, and Potatoes. This recipe is a celebration of the classic tastes of Eastern Europe, and it is the ideal option for a delightful dish to serve at a gathering of friends or for a home-cooked supper with your immediate family.
This dish exemplifies the heartiness and straightforwardness that are hallmarks of Polish cuisine. Because this is a meal that can warm both the body and the soul, it is a perfect option for a night spent curled up on the couch at home.
This recipe is a fantastic tribute to the flavors that are traditionally used in Poland, and it offers the ideal harmony of smokey, tart, and earthy undertones. It is a hearty lunch that will not only please the family but also the visitors that dine with them. Savor the spices that will warm your heart in this traditional Polish dish! Here's how you can make it:
THE INGREDIENTS LIST:
1.5 lbs.Of Polish sausage, sliced into bite-sized pieces (680g).
1 lb.Of sauerkraut, drained and rinsed (450g).
4 large potatoes, peeled and diced.
1 large chopped onion.
2 minced cloves of garlic.
2 Tbsp.Of butter.
1 Tbsp.Of olive oil.
1 Tsp.Of caraway seeds (optional).
Salt and pepper to taste.
Chopped fresh parsley for garnish (optional).
For Ingredients And Complete Cooking Instructions Please Head On keep on Reading (>)