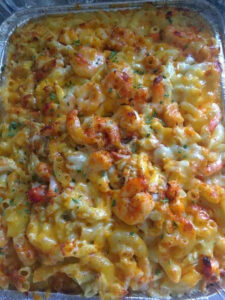 HOW TO MAKE SEAFOOD MAC AND CHEESE: A Culinary Odyssey
There aren't many meals that can compete with the delicious symphony that is seafood mac & cheese when it comes to the domain of comfort food. This culinary masterpiece combines the comforting embrace of traditional macaroni and cheese with the salty seduction of the ocean's abundance. The result is a dish that is both rich and creamy. It's a cuisine that goes above and beyond the typical eating experience, providing a one-of-a-kind adventure that not only excites the taste senses but also soothes the spirit.
The remarkable heights that comfort food can reach when paired with a touch of elegance and innovation can be seen here in this meal, which serves as a monument to the extraordinary heights that comfort food is capable of reaching. It is an homage to the riches that the sea has to provide while also being a celebration of the many tastes and textures that can be found in the dish. Whether you enjoy it in the company of those you care about or as a lonely pleasure, Seafood Mac and Cheese is the kind of experience that will stay with you for years to come, both in your taste and in your mind.
INGREDIENTS YOU'LL NEED:
1 lb.Of macaroni pasta.
1/2 Cup.Of unsalted butter.
1/2 Cup.Of all-purpose flour.
4 Cups.Of whole milk.
2 Cups.Of sharp cheddar cheese, shredded.
1 Cup.Of Gruyère cheese, shredded.
1 Cup.Of Parmesan cheese, grated.
1 Tsp.Of Dijon mustard.
Salt and black pepper to taste.
1/2 Tsp.Of cayenne pepper (optional, for a subtle kick).
1 lb.Of mixed seafood (shrimp, crab meat, and scallops work wonderfully).
1/2 Cup.Of breadcrumbs.
2 Tbsp.Of fresh parsley, chopped.
For Ingredients And Complete Cooking Instructions Please Head On keep on Reading (>)