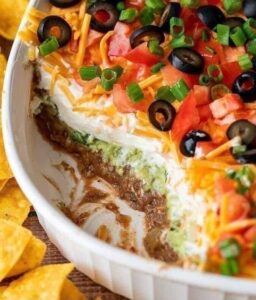 HOW TO MAKE THE BEST 7 LAYER TACO DIP
Preparation Time:
For about 15 to 20 minutes.
Total Time:
Approximately 1 hour and 20 minutes (including 1 hour of refrigeration).
Servings:
The recipe should yield approximately 8 to 10 servings, depending on how generously it's scooped and served.
Hello all! Step into a world of flavor with our irresistible 7-Layer Taco Dip, a culinary masterpiece guaranteed to steal the show at your next gathering. This dish is a harmonious fusion of Mexican-inspired ingredients, designed to delight your senses with every bite. From the velvety base of refried beans, enhanced with the tantalizing notes of homemade or store-bought taco seasoning, to the layers of creamy guacamole and cool sour cream, it's a symphony of tastes that's both visually stunning and incredibly delicious.
The crowning glory of this dish is a generous shower of grated cheddar cheese, creating a gooey, savory crescendo that promises to satisfy your cravings. Top it off with a vibrant array of sliced Roma tomatoes, the bold flavors of black olives, and the fresh crunch of green onions, and you have a masterpiece.
The best part? You won't need to be a culinary genius to make it – our straightforward recipe ensures this delectable dip is ready in a breeze. Whether you're hosting a festive party, setting the stage for a game day extravaganza, or simply yearning for a flavorful snack, this 7-Layer Taco Dip is your answer. Prepare to leave your guests in awe and savor every morsel of this mouthwatering creation.
Ingredients:
1 can of refried beans.
2 tablespoons of taco seasoning (homemade or store-bought).
1 cup of guacamole.
1 cup of sour cream.
1 cup of grated cheddar cheese.
2 Roma tomatoes, sliced.
1/2 cup of sliced black olives.
2-3 green onions, chopped.
For Ingredients And Complete Cooking Instructions Please Head On keep  on Reading  (>)