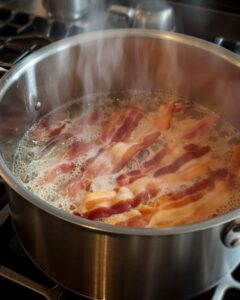 The Oven Method:
The oven method is a game-changer when it comes to cooking bacon. It offers several advantages over traditional stovetop cooking, making it the preferred choice for many home cooks.
Advantages of Cooking Bacon in the Oven:
Consistency:
Cooking bacon in the oven provides even heat distribution, resulting in perfectly crispy strips every time. You won't have to worry about some pieces being undercooked while others are burnt.
Hands-Free: 
Once you place the bacon in the oven, you can step away and attend to other tasks while it cooks. There's no need to stand by the stovetop, flipping bacon or worrying about grease splatters.
No Flipping Required:
Unlike stovetop methods where you need to flip bacon to ensure even cooking, bacon in the oven cooks evenly on both sides without any flipping needed.
Less Mess:
Cooking bacon in the oven keeps the grease contained on a baking sheet lined with parchment paper or aluminum foil. This means easy cleanup, as you can simply discard the paper or foil with the grease once you're done.
Steps to Cook Bacon in the Oven:
Prepare the Oven: Start by preheating your oven to 400°F (200°C). This high heat will help the bacon become crispy.
Prepare a Baking Sheet:
Line a rimmed baking sheet with parchment paper or aluminum foil. This step is crucial for easy cleanup.
Arrange the Bacon:
Lay the bacon strips in a single layer on the lined baking sheet. Make sure they don't overlap.
Bake:
Place the baking sheet in the preheated oven and let the bacon cook for about 15-20 minutes. The exact time may vary depending on your oven and the thickness of the bacon, so keep an eye on it after 15 minutes.
Drain and Serve:
Once the bacon reaches your desired level of crispiness, remove it from the oven. Use tongs or a fork to transfer the bacon strips to a plate lined with paper towels to absorb any excess grease.
Enjoy:
Your perfectly cooked bacon is ready to enjoy. Serve it with your favorite breakfast dishes or use it as an ingredient in various recipes.
Cooking bacon in the oven is the easiest and hassle-free method for achieving consistently delicious results without the mess and fuss of stovetop cooking. Whether you're preparing a hearty breakfast or adding bacon to your favorite dishes, this oven method will make your cooking experience smoother and more enjoyable. So, the next time you crave crispy, smoky bacon, remember to turn to your oven for the perfect, hassle-free solution.