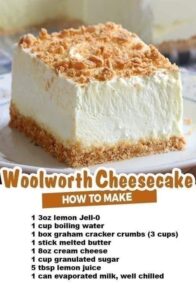 THE INGREDIENTS LIST:
For the graham cracker crust:
• 1 and 1/2 Cups.Of graham cracker crumbs.
• 1/4 Cup.Of granulated sugar.
• 1/2 Cup.Of unsalted butter, melted.
For the cream cheese filling:
• 16-oz.Of cream cheese; I used 2 tubs softened to room temp.
• 1 Cup.Of powdered sugar
• 1 Tsp.Of vanilla extract
• 1 Cup.Of heavy cream, whipped.
For the topping:
• 1 (21-oz) Can.Of fruit pie filling (I used cherry, but it depends on your choice).
PREPARATION:
1st Step
To make the crust, combine the graham cracker crumbs, sugar, and melted butter in a large basin. Continue to mix until the crumbs have an equal coating.
2nd Step
Form the crust by pressing the mixture firmly onto the bottom of a 9×13-inch baking dish; chill the dish while you make the cream cheese filling.
3rd Step
In a large basin, whisk the softened cream cheese until velvety and smooth. After that, add the vanilla essence and powdered sugar, and continue to whisk the mixture until everything is incorporated.
4th Step
After gently folding the whipped cream into the cream cheese filling until it is completely integrated, spread the filling over the graham cracker crust in a uniform layer.
5th Step
Over the cream cheese, spread the fruit filling. Wrap the dish with plastic wrap, place it in the refrigerator, and let it stay there for at least four hours, or overnight, if possible so that the flavors can combine and the cheesecake can set.
The Famous Woolworth Ice Box Cheesecake is a cherished dessert, offering a taste of nostalgia and a moment of pure indulgence. Whether enjoyed as a sweet finish to a family dinner or shared at a special gathering, this cheesecake is sure to leave a lasting impression. Embrace the simplicity and timeless appeal of The Famous Woolworth Ice Box Cheesecake, and savor the taste of this legendary dessert.