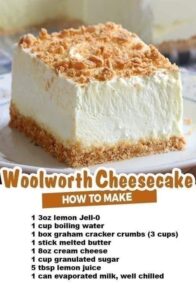 HOW TO MAKE THE FAMOUS WOOLWORTH ICEBOX CHEESECAKE
The Famous Woolworth Ice Box Cheesecake is a well-known delicacy that has withstood the test of time. It has a velvety, decadent consistency, and its wonderful graham cracker shell is what really sets it apart from other cheesecakes. This culinary masterpiece harkens back to the days of the much-loved Woolworth's lunch counter, and every velvety mouthful offers a sense of nostalgia that transports the diner right back in time. It's a dessert that uses just the most basic, time-tested ingredients to make something that will always be a crowd-pleaser.
It's more than simply a dessert; the Famous Woolworth Ice Box Cheesecake is a journey through layers of luxury and comfort. The buttery graham cracker crust lies over a silky cream cheese filling that has been subtly sweetened and flavored with vanilla. This combination of flavors and textures creates the ideal contrast for the cream cheese filling. The fresh whipped cream that is added brings a lightness to the cheesecake that balances out the richness of the cheesecake, resulting in a taste combination that is balanced and harmonic. Every mouthful is a trip down memory lane, bringing to mind happier times and priceless moments spent bonding with loved ones over a piece of this legendary dessert.
THE INGREDIENTS LIST:
For the graham cracker crust:
• 1 and 1/2 Cups.Of graham cracker crumbs.
• 1/4 Cup.Of granulated sugar.
• 1/2 Cup.Of unsalted butter, melted.
For the cream cheese filling:
• 16-oz.Of cream cheese; I used 2 tubs softened to room temp.
• 1 Cup.Of powdered sugar
• 1 Tsp.Of vanilla extract
• 1 Cup.Of heavy cream, whipped.
For the topping:
• 1 (21-oz) Can.Of fruit pie filling (I used cherry, but it depends on your choice).
For Ingredients And Complete Cooking Instructions Please Head On keep on Reading (>)