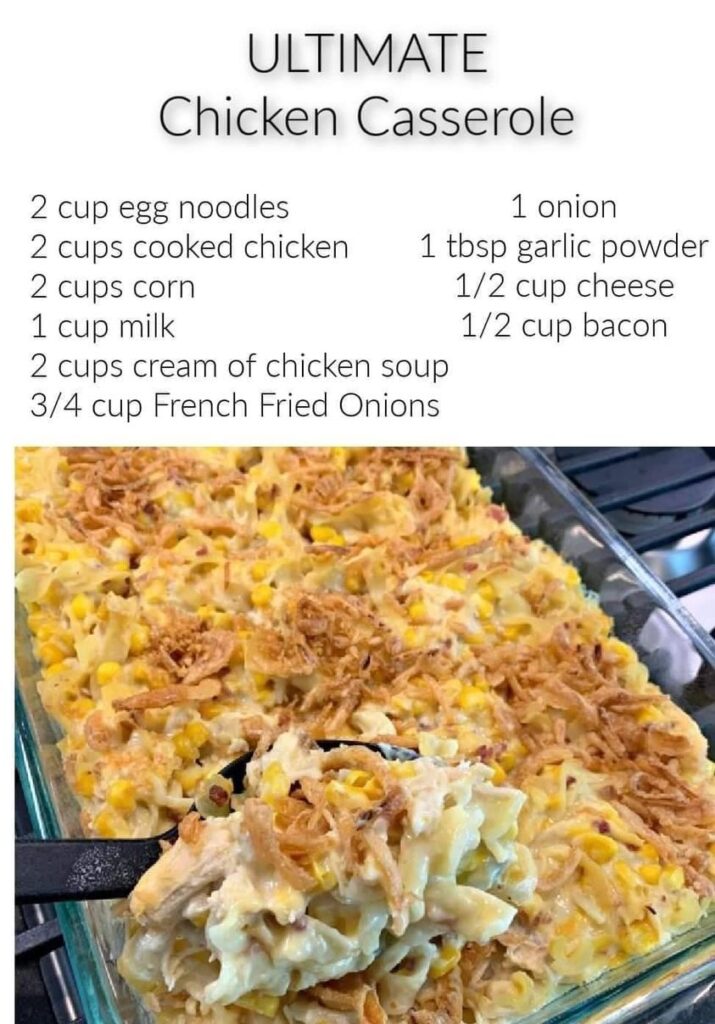 HOW TO MAKE ULTIMATE CHICKEN CASSEROLE
The Ultimate Chicken Casserole is a comforting and satisfying dish that combines tender chicken, flavorful vegetables, and a creamy sauce, all topped with a golden, cheesy crust. This recipe is a crowd-pleaser and a go-to comfort food that's perfect for family dinners or gatherings with friends.
This Chicken Casserole is a wholesome and hearty dish that combines the best elements of comfort food: tender chicken, creamy sauce, cheesy goodness, and a medley of vegetables. Whether you're serving it for a weeknight family dinner or a special occasion, this recipe is sure to be a hit. Enjoy the satisfying flavors and heartwarming appeal of the Ultimate Chicken Casserole with your loved ones.
INGREDIENTS YOU'LL NEED:
FOR THE CASSEROLE:
– 4 Cups.Of cooked chicken – shredded.
– 2 Cups.Of cooked pasta (such as penne or rotini).
– 1 Cup.Of frozen peas
– 1 Cup.Of sliced carrots.
– 1 Cup.Of sliced celery.
– 1/2 Cup.Of chopped onions.
– 1/4 Cup.Of chopped red bell pepper.
– 1/4 Cup.Of chopped fresh parsley (for garnish).
– 1 Cup.Of shredded cheddar cheese.
– 1 Cup.Of shredded mozzarella cheese.
FOR THE CREAMY SAUCE:
– 1/4 Cup.Of unsalted butter.
– 1/4 Cup.Of all-purpose flour.
– 2 Cups.Of chicken broth
– 1 Cup.Of milk (whole or 2%).
– 1 Tsp.Of garlic powder.
– 1 Tsp.Of onion powder.
– Salt and freshly ground black pepper, to taste.
For Ingredients And Complete Cooking Instructions Please Head On keep on Reading (>)