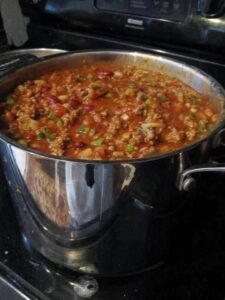 HOW TO MAKE WENDY'S CHILI RECIPE
With its significant combination of ground beef, beans, and aromatic spices, Wendy's Chili is a time-honored favorite that can warm the soul. This dish is a monument to the art of comfort cuisine, giving a bowl of rich and fulfilling chili that is ideal for a dinner shared with loved ones in the warmth of your home. It's a recipe that combines the health benefits of using natural products with the cozy feeling you get from eating a stew that you created from scratch.
A bowl of Wendy's chili is more than simply a meal; it's a nostalgic reminder of the comforts of home and a soothing way to spend some time. A powerful and rich broth is the result of a symphony of tastes created by the combination of soft ground beef, hearty beans, and a mix of savory spices. This combination generates a symphony of flavors that combine to form the broth. The incorporation of tomatoes and onions results in an increase in both depth and texture, while the use of beans results in a pleasing increase in the dish's heartiness. Every bite takes you further into the process of creating chili, bringing back fond recollections of times spent eating together and laughing with loved ones.
THE INGREDIENTS LIST:
1 Lb.Of ground beef (500 grams)
One chopped onion.
One chopped green bell pepper.
2 garlic cloves – minced
1 large can.Of pinto beans, drained and rinsed.
1 large can.Of kidney beans, drained and rinsed.
1 large can.Of diced tomatoes.
1 medium can.Of tomato sauce.
1 Cup.Of water.
1 Tbsp.Of chili powder.
1 Tsp.Of ground cumin.
1 Tsp.Of paprika
1/2 Tsp.Of cayenne pepper (or to taste).
1/2 Tsp.Of black pepper.
1/2 Tsp.Of salt.
For Ingredients And Complete Cooking Instructions Please Head On keep on Reading (>)