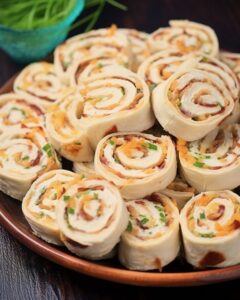 When I served these at a party, people kept grabbing seconds and thirds!!!
IRRESISTIBLE CRACK CHICKEN PINWHEELS: The Party Hit You Can't Resist
Crack Chicken Pinwheels are a party-perfect appetizer that delivers an explosion of flavor in every bite. These delectable pinwheels combine the savory goodness of creamy cheese, tender chicken, and crispy bacon, all wrapped in a soft tortilla. The name "Crack Chicken" comes from the addictive nature of the dish; once you try one, you'll find it hard to stop. These pinwheels are the kind of appetizer that guests can't get enough of, making them an instant party hit.
Your Crack Chicken Pinwheels are destined to be the star of any gathering. The irresistible combination of creamy cheese, savory chicken, and crispy bacon creates a flavor explosion that keeps guests coming back for more. The creamy ranch dressing adds a tangy kick that perfectly complements the richness of the filling.
Every time you serve these pinwheels, you'll witness hands eagerly reaching for them, and delighted murmurs of approval. The pinwheels disappear quickly, leaving behind satisfied smiles and requests for the recipe. They have a magical quality that turns any gathering into a memorable event.
THE INGREDIENTS NEEDED:
FOR THE FILLING:
8-oz.Of cream cheese, softened.
1 Cup.Of cooked chicken, shredded.
1/2 Cup.Of cheddar cheese, shredded.
1/4 Cup.Of green onions, chopped.
1/4 Cup.Of crispy bacon, crumbled.
1/4 Cup.Of ranch dressing.
Salt and pepper to taste.
FOR ASSEMBLY:
Large flour tortillas (8-10 inches).
Lettuce leaves.
Tomato slices (optional)
For Ingredients And Complete Cooking Instructions Please Head On keep on Reading (>)