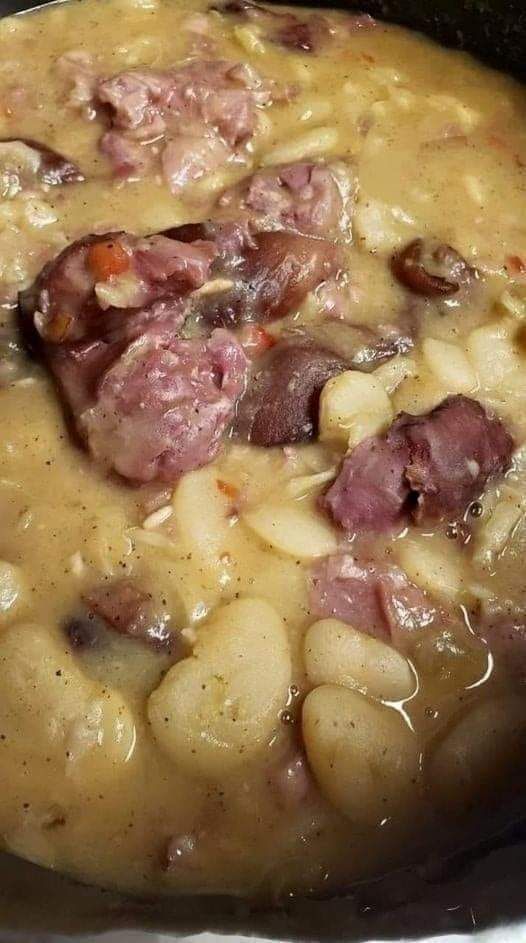 WHITE BEAN AND HAM HOCK SOUP: Hearty Comfort in a Bowl
The earthy tastes of soft white beans and the smoky richness of ham hocks come together in a meal called White Bean and Ham Hock Soup, which is a dish that will warm your spirit. This substantial soup is a classic example of comfort food; it is ideal for winter days and gatherings with close friends and family.
This White Bean and Ham Hock Soup is a celebration of rustic tastes, blending the substantial goodness of beans with the smokey richness of ham hocks to create a soup that is both rich and hearty. Because each morsel imparts a distinct flavor of coziness and reassurance, this dish is an invaluable asset to any dining table.
THE INGREDIENTS LIST:
1 Lb.Of dried white beans (Great Northern or Navy beans).
2 ham hocks.
1 large chopped onion.
3 chopped carrots.
3 chopped celery stalks.
4 minced garlic cloves.
8 Cups.Of chicken or vegetable broth.
2 bay leaves.
1 small sp.Of dried thyme.
Salt and pepper to taste.
Olive oil for sautéing.
Optional: chopped fresh parsley for garnish.
For Ingredients And Complete Cooking Instructions Please Head On keep on Reading (>)