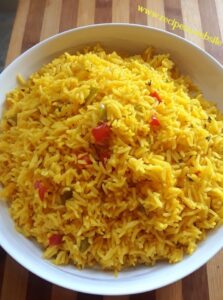 Homemade Yellow Rice!
2 cup basmati Rice or Rice of your choice
4 cups chicken broth or water
1 tbsp unsalted butter
1/2 tsp salt
Red and green peppers( minced)
1/2 of a medium onion( minced)
2 tsp tumeric
Tumeric is good for your digestive system and good for your body overall
Add water or broth to pot let it come to a boil then add washed Rice, tumeric, salt ,onions and peppers of using and butter mix with a fork .let it come up to a boil again then cover on low fire to steam for about 30 to 35 miniutes when done fluff with a fork and serve!!@
i have used saffron and curry but some curry gives a brownish colour and saffron cost toomuch money.
Enjoy.