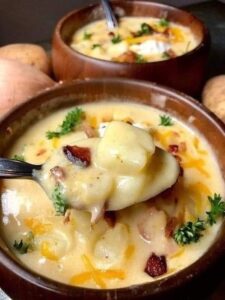 HOW TO MAKE CREAMY POTATO SOUP
On a cold day, there is nothing quite like the feeling of warmth and comfort that can be brought on by a cup of creamy potato soup. This treasured dish, which has been handed down from one generation to the next, has become a mainstay in many homes. Due to its velvety consistency as well as its rich and hearty taste, it has become a go-to meal for individuals who are looking for comfort from the winter cold.
Creamy potato soup made by mom is more than simply a meal; it's an embrace on a chilly day, a taste of love and warmth, and it's something to look forward to when the weather turns cold. You will be able to duplicate this beloved dish and bring the warm, comforting atmosphere it evokes into your own home if you follow these straightforward instructions. You'll be able to feel the love and attention that went into cooking this delectable dish that has become a favorite in the family with every bite. Have fun!
THE INGREDIENTS LIST:
4 large potatoes, peeled and diced.
1 medium finely chopped onion.
2 garlic cloves, minced.
4 Cups.Of chicken or vegetable broth.
1 Cup.Of whole milk.
1/2 Cup.Of heavy cream.
2 Tbsp.Of butter.
2 Tbsp.Of all-purpose flour.
Salt and pepper to taste.
Chopped chives or green onions for garnish (optional).
For Ingredients And Complete Cooking Instructions Please Head On keep  on Reading  (>)