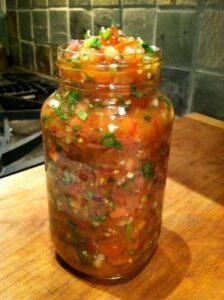 THE INGREDIENTS LIST:
4 ripe tomatoes, diced
1 small red onion, finely chopped
1 jalapeño pepper, seeds removed and finely chopped (adjust to taste)
1/2 cup fresh cilantro, chopped
1 lime, juicedSalt to taste
PREPARATION:
1st Step
Combine the diced tomatoes, the red onion that has been finely chopped, the jalapeno pepper that has been chopped, and the fresh cilantro in a large mixing bowl.
2nd Step
Squeeze the juice of one lime over the ingredients and stir to combine.
3rd Step
Toss all of the items together in a gentle manner until they are completely incorporated.
4th Step
Taste it, and add more salt if you feel it's necessary or to your liking.
5th Step
At the very least half an hour should pass between stirring the Pico de Gallo and eating it so that the flavors may combine. This phase is essential for the completion of the flavor creation process.
Pico de Gallo is a culinary gem, offering the bold and vibrant flavors of Mexican cuisine in a simple, wholesome salsa. The combination of fresh tomatoes, onions, cilantro, and jalapeños creates a medley of flavors that's sure to enhance any meal. Whether served with tortilla chips, used as a topping for tacos, or enjoyed as a side dish, Pico de Gallo adds a burst of freshness and zest to every bite. Embrace the flavors of Mexico and savor the taste of this versatile and delicious salsa.