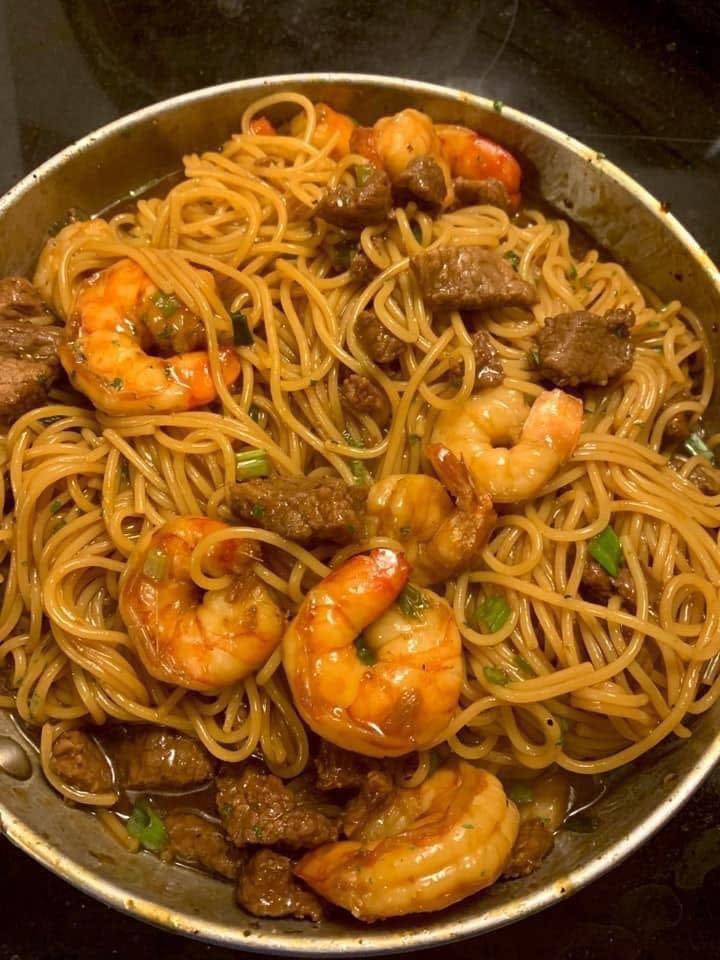 HOW TO MAKE SHRIMP & TERIYAKI STEAK NOODLES – AN ASIAN INSPIRATION
The dish known as Shrimp and Teriyaki Beef Noodles is a culinary masterpiece that combines the delectable flavors of succulent shrimp, tender beef, and the full-bodied umami of teriyaki sauce. This meal, which takes its inspiration from Asian cuisine, has a combination of tastes and textures that work together to create a symphony of taste that will take you to the bustling streets of an Asian market. This dish is a tribute to the elegance of the surf and turf combination, and it is boosted by the seductively sweet and savory qualities of teriyaki sauce.
The dish known as Shrimp and Teriyaki Steak Noodles is more than simply a dinner; rather, it is an excursion across the culinary landscape of Asia. The delicate steak and plump, succulent shrimp are both marinated in a delectable teriyaki sauce, which imparts an additional layer of flavor to each of the proteins. The veggies provide a splash of color and a satisfying crunch, while the smooth noodles serve as a canvas to soak up the decadent sauce. With each mouthful, you'll be transported to the bustling alleyways of an Asian night market, where you'll be greeted by intoxicating scents and unique flavors.
THE INGREDIENTS LIST:
FOR THE TERIYAKI MARINADE:
1/4 Cup.Of soy sauce.
2 Tbsp.Of mirin (sweet rice wine).
2 Tbsp.Of sake ( you can use white wine).
2 Tbsp.Of brown sugar.
2 minced garlic cloves.
Fresh grated ginger.
1 Tbsp.Of cornstarch (optional, for thickening).
FOR THE STEAK AND SHRIMP:
8-oz.Of steak (ribeye, sirloin, or your preferred cut).
8-oz.Of large shrimp, peeled and deveined.
Salt and black pepper to taste.
2 Tbsp.Of vegetable oil.
FOR THE NOODLES AND VEGETABLES:
8-oz.Of egg noodles or udon noodles.
1 sliced red bell pepper.
1 Cup.Of snap peas.
1 Cup.Of broccoli florets.
2 chopped green onions.
For Ingredients And Complete Cooking Instructions Please Head On keep on Reading (>)