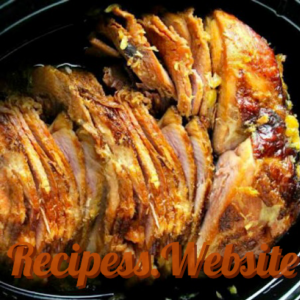 SLOW COOKER HONEY-GLAZED HAM
Honey Glazed Ham cooked in the slow cooker with brown sugar, honey, and dijon mustard is a delicious and simple dish to prepare. This simple ham dish is a dump-and-go meal, which means you can set it and forget it while the slow cooker does all the work. Even the gravy is made by the machine.
It is one of my favorite things about cooking when a meal is quick to prepare yet tastes like you spent all day slaving in the kitchen. Because let's face it, who wants to spend their whole day in the kitchen? Well, there are moments when I am like that. Being in the kitchen is one of my favorite things to do.
Probably one of the simplest dishes you'll ever prepare is this slow cooker honey-glazed ham recipe.
THE INGREDIENTS REQUIRED FOR HONEY GLAZED HAM ARE AS FOLLOWS:
A 4-pounds fully cooked pork.
50 grams.Of light brown sugar.
1/2 Cup.Of honey.
2 T spoons.Of Dijon mustard.
1/4 t spoon.Of ground cloves
2 cloves garlic, minced.
1/4 Cup.Of water.
DIRECTIONS:
Step 1: To begin, you need to combine the brown sugar, honey, mustard, cloves, garlic, and water are combined in a small saucepan and heat over high heat until the sugar is dissolved. Heat it until it's hot enough to dissolve the sugar, then turn it off.
Step 2: Next, you need to put the meat in the slow cooker, and pour the mixture over the pork, being careful to keep the fillets apart to allow the ice to sink between them as much as possible.
Step 3: If the ham is very big, wrap it snugly in aluminum foil and place it in the slow cooker with the lid on.
Step 5: Cook for 3-4 hours on low heat (or 1-2 hours on high heat) until it reaches a temperature of 165°F. And transfer the pork to an oven-safe dish and leave it aside while the broiler heats up.
Step 6: Then fill a small saucepan halfway with the cooking liquid, and for 5 to 7 minutes, heat the cooking liquid over high heat until it thickens and bubbles.
Step 7: Let them boil for approx. 5 minutes, then baste the pork with extra glaze every minute or so while it's still cooking.
Take pleasure in it!