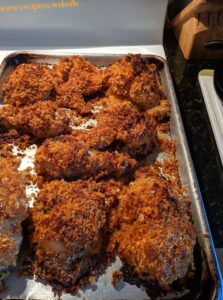 My oven fried chicken
Whole chicken cut up brined in kosher salt and water for 2 hours. Drain chicken
Plain yogurt I use half of a large container and add milk until it looks like a thick cream gravy
Box of Corn Flakes ground in food processor I use 3/4 of a large box and add 1 tblsp garlic powder, 1 tblsp paparika, 1 tblsp kosher salt, 1 tblsp fresh course ground black pepper, 1 tsp onion powder and 1 tsp celery salt. Mix all together in big bowl
Dip chicken pieces in yogurt and roll in corn flakes and place on a cookie sheet that has been coated lightly with olive oil. After all chicken is on try melt butter and spoon over top of each chicken pieces.
Oven 400 degrees for 45 minutes.
Enjoy!