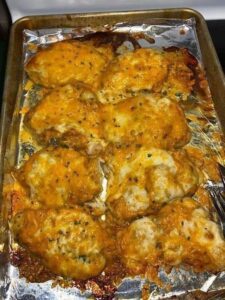 HOW TO MAKE ALICE SPRINGS CHICKEN – INSPIRED BY OUTBACK STEAKHOUSE
Alice Springs Chicken is a dish that marries the succulence of grilled chicken with a symphony of bold flavors. This culinary creation, inspired by the renowned Outback Steakhouse, offers a taste of the Australian Outback right in your own kitchen. It's a dish that tantalizes the taste buds with its tender chicken, crispy bacon, sautéed mushrooms, and gooey cheese, all brought together with a luscious honey mustard sauce.
Alice Springs Chicken is more than just a meal; it's a journey through layers of taste and texture. The perfectly grilled chicken breast forms the foundation, providing a juicy canvas for the savory elements that follow. The crispy bacon adds a smoky crunch, while the sautéed mushrooms bring an earthy richness. The melted Monterey Jack and Cheddar cheeses create a gooey blanket of indulgence, sealing in the flavors. Finally, the drizzle of honey mustard sauce ties it all together with a zesty, slightly sweet note that elevates each bite.
THE INGREDIENTS LIST:
For the chicken:
4 large chicken breasts (boneless and skinless).
Salt and black pepper to taste.
1 Tbsp.Of olive oil.
For the honey mustard sauce:
1/4 Cup.Of Dijon mustard.
1/4 Cup.Of honey.
2 Tbsp.Of mayonnaise.
1 Tbsp.Of lemon juice.
1 Tsp.Of apple cider vinegar.
1/2 Tsp.Of garlic powder.
For the topping:
8 slices.Of bacon.
1 Cup.Of mushrooms, sliced.
1 Cup.Of shredded Monterey Jack and Cheddar cheese blend.
For Ingredients And Complete Cooking Instructions Please Head On keep on Reading (>)